Sunday, August 30, 2009
10:58 PM |
Posted by Lynn Dao Photography
Last week I went cruisin' to Alaska with Drew's BIG & awesomely tight-knit family. There were 24 of us and that's not even his whole family yet. Gotta love the big families. It rained at some of our stops, but at least we had some great family bonding time and took full advantage of their indoor pool & jacuzzi!
Our first stop was Ketchikan. This was supposed to be sea-kayaking day, but it rained so much that no one felt like getting soaking wet that day, so we took a bus tour around town and just thought about how nice it would be to get back to the spa on the ship. Here's a look at the town (My one photo of Ketchikan!):
Next stop was Juneau where there was more to do, but less time to do it. Nice thing was, no rain that day, so we hung around town for a bit. That's me sporting Target gear. The airline lost my luggage when I arrived in Seattle, so I had a big ol' shopping spree at Target before we took off. All on the airline -YEAH!!!
Mendenhall Glacier. Most awesome!!!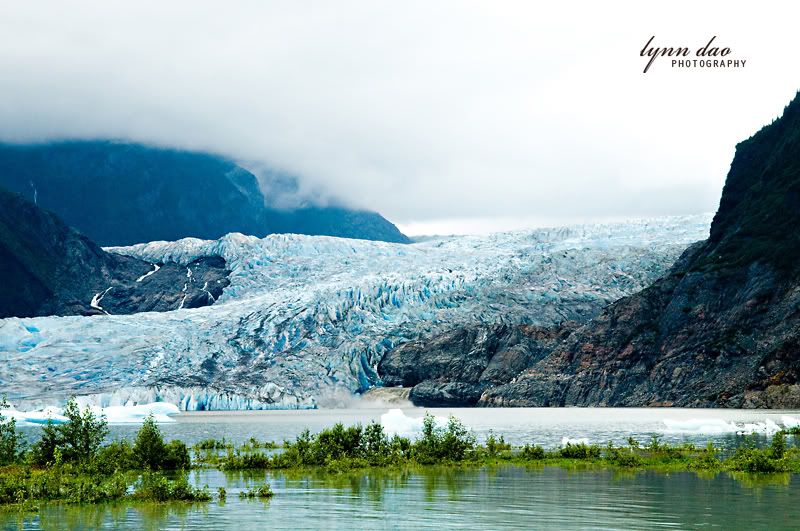 Another glacier (way yonder) that I forgot the name of. Saw this one from our ship.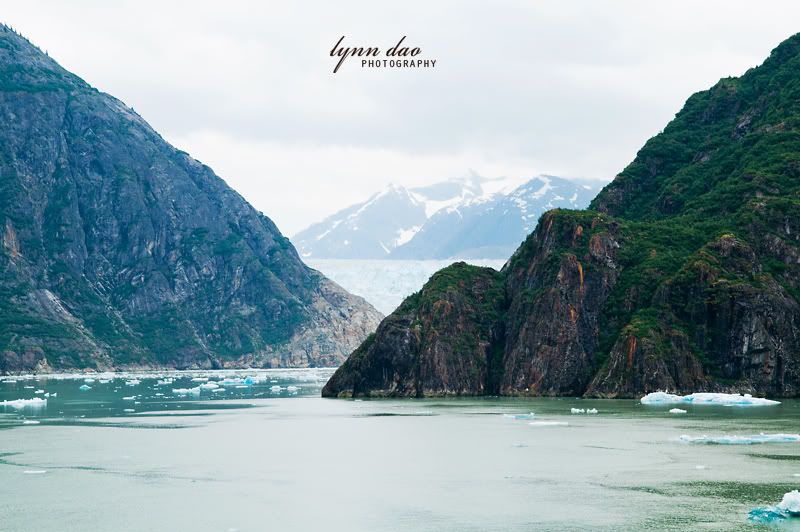 I felt the need to celebrate right then & there.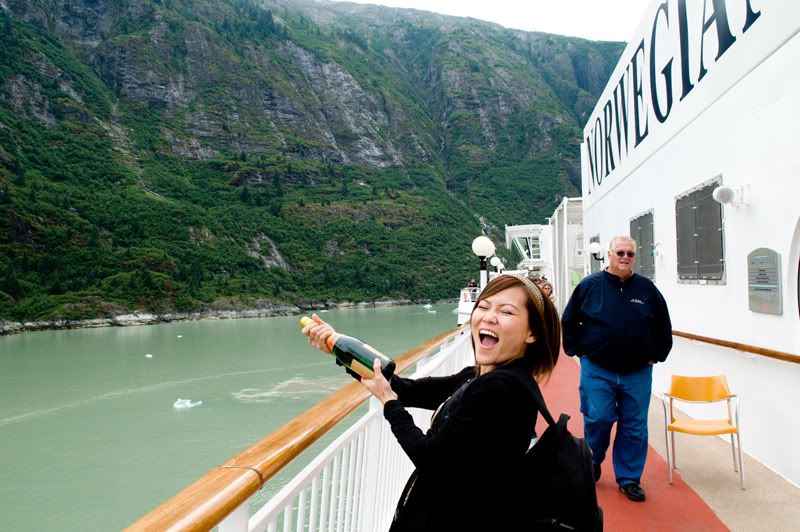 The reason for the family cruise was to celebrate Drew's aunt & uncle's 40th wedding anniversary. Pretty damn remarkable! I love this pic of them.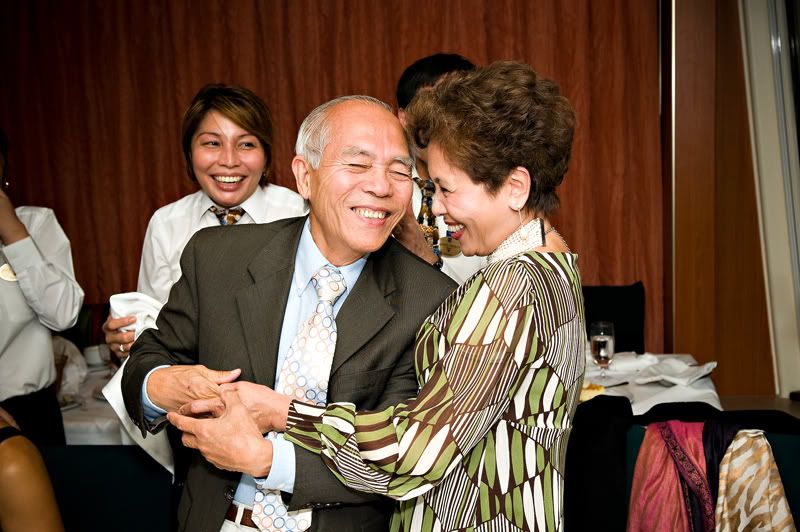 Later on that week, we also celebrated his cousin Rich's anniversary to his hubby Cobi. Here's the happy couple!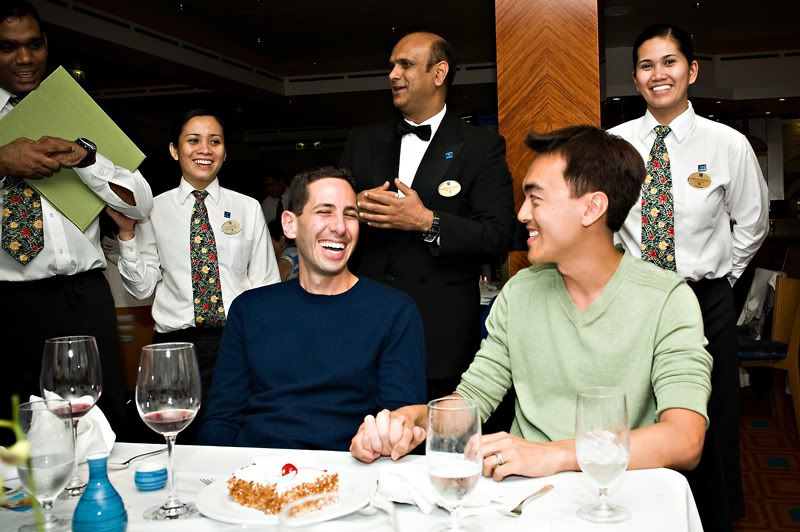 Next stop, Skagway. A small town that pretty much seems to open and close with the tourist season.
Drew & I ventured out with his sister Ann because we learned fast that if we wait for everyone else in the group, we'd get nowhere. =)
Drew, gettin' somewhere.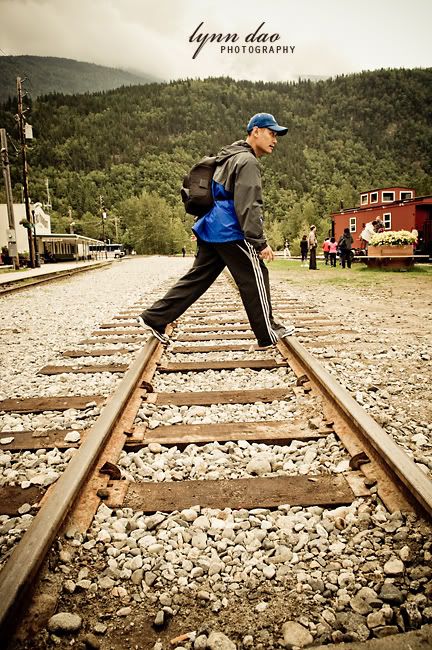 10:30am skagway brewery stop.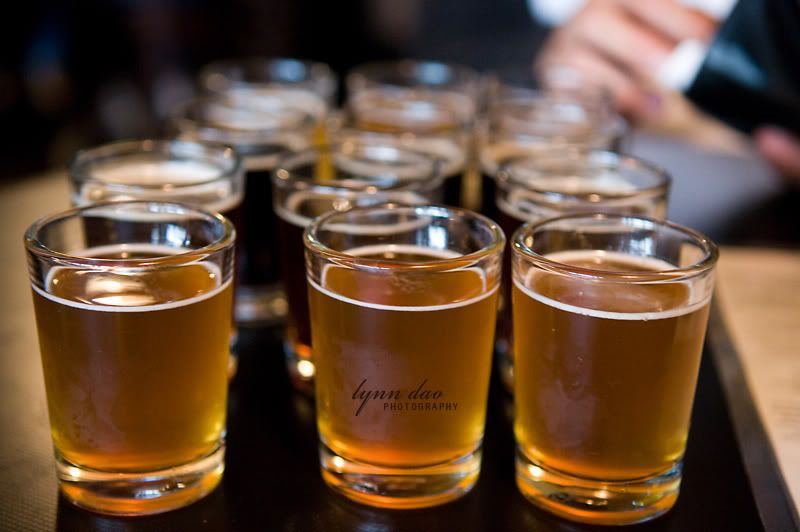 Ok, we're ready to start the day now.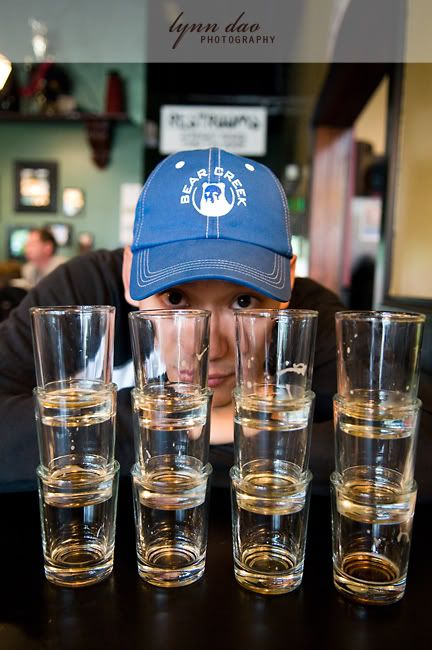 We took a nice little walk around town and discovered some neat stuff: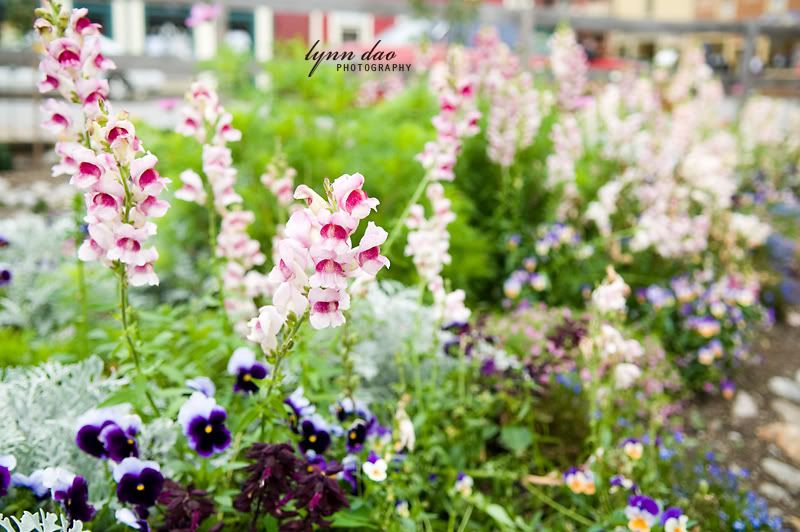 Then it was off to dog sledding camp! This young buck & his buddies took us on an unforgettable ride through the woods. We were amazed at how strong and fast these dogs were. There were 16 dogs pulling 8 adults on a sled.
The best part of the ride was watching one of the dogs take a poop while having to run with the rest of the pack! He wanted to squat and do his business, but the other 15 didn't care, so the poor guy had to semi squat, run, and poop at the same time!
After the races, we visited the dogs at their camp and learned more about mushers, the dogs they train and care for, and the races held annually.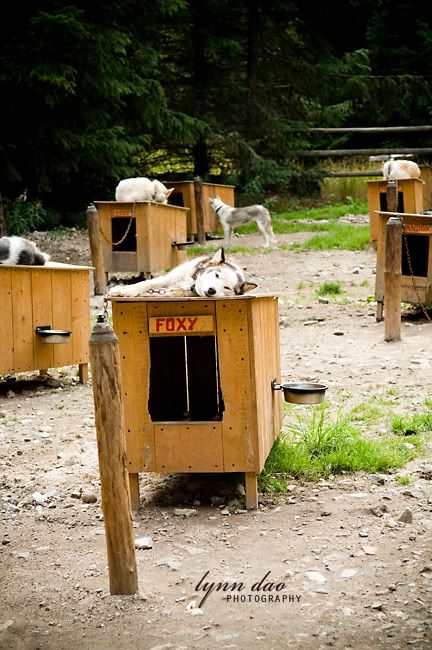 Here's the sweetest one of the bunch, Homer. He's retired after running a few years in the Iditarod.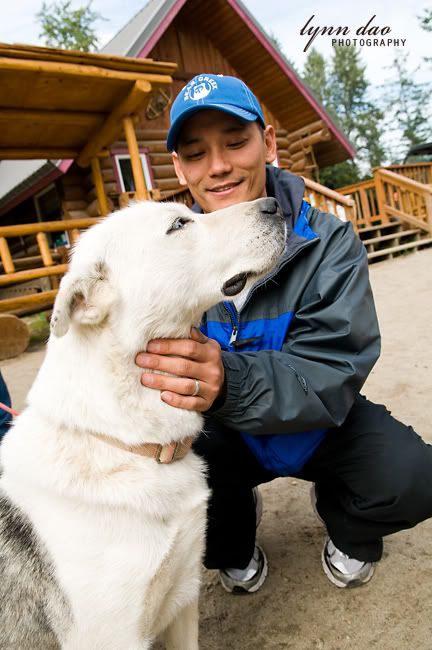 Near the dog camp is something from Legends of the Fall. It's just amazing how beautiful our country is.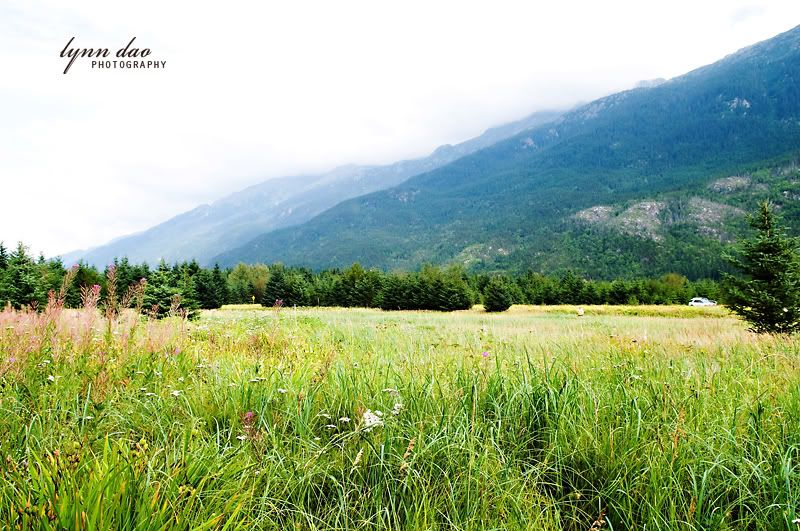 Salmon were swimming in every river we came across! Is it bad to say how much I love sashimi at this point?
There's Ann, Rich, and Cobi in the distance.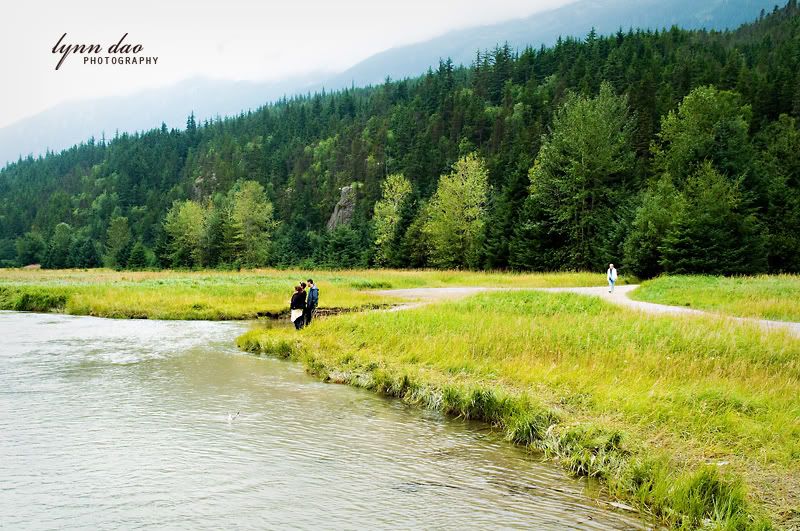 Still in the background! Can't get rid of them.
Me, happy to be out in green lands with trees once again. =)
Our last stop was Prince Rupert, where we rented scooters and sped up the highway. I wanna say we looked all tough on our bikes, but it was more along the lines of the get-along-gang. Agreed?
(pic from cousin Mai's camera)
Drew's cousin Spencer & his dad before we all rode around town for an hour, in the rain. I always love riding scooters, but it can only get so good when your hands are freezing and your face is soaking wet!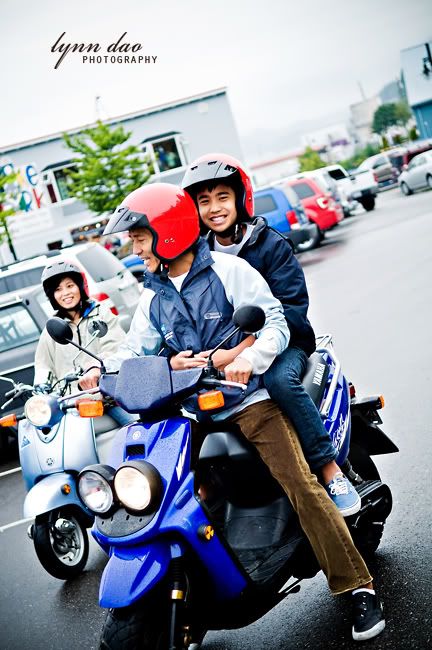 Though we didn't get to see much of Alaska because of the weather, it was still an awesome trip full of family bonding - and that's what's most important. (And yes, that outfit is from Target.)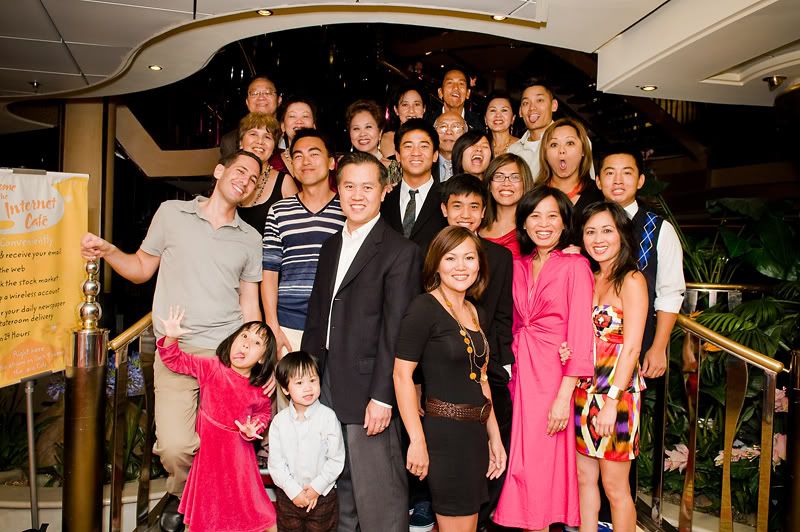 Blog Archive

Contributors