Thursday, September 16, 2010
6:12 PM |
Posted by Lynn Dao Photography
Ladies!!! I know everyone is busy thinking about Halloween costumes right now, but please start thinking about that unforgettable Christmas gift as well! November will be a very busy month, so if the thought has crossed your mind to give him some out-of-this-world boudoir photos, now's the time to start booking your session before space runs out. November 20th is the date for the last boudoir marathon of this year, and it's also the last day to have your boudoir photos done in time for Christmas.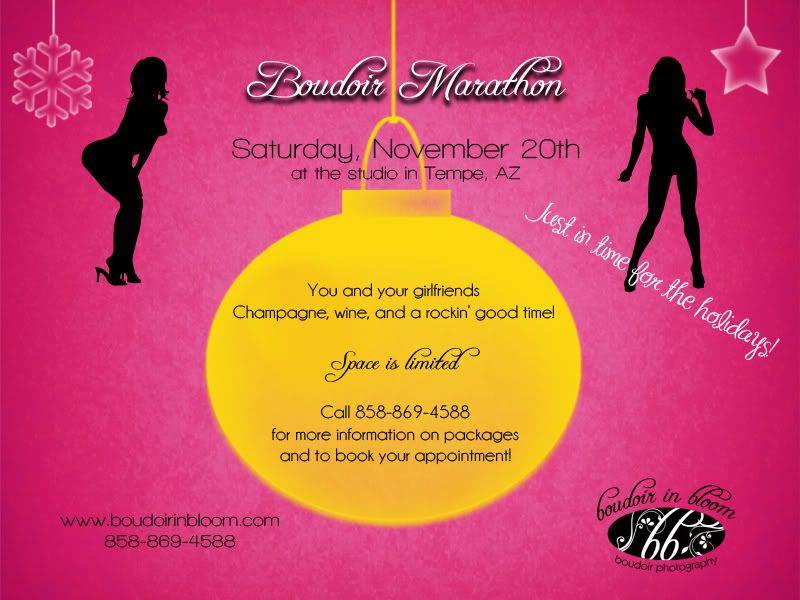 There are 20 and 40 minute packages available. Erica Konz, our fabulous make-up artist and hair stylist will be available to get you all dolled up for your shoot. Many of my past clients have used her and ALL have been very happy with her work.
How does the marathon work?
You can book a session on your own, or you and your girlfriends can book an allotted amount of time. There will be champagne, wine, and light snacks while you're waiting or getting your make-up done. Chic flicks will be rolling on the flatscreen and music will be bumpin' in the background. One person will be photographed at a time, during her scheduled time.
What do the packages entail?
Please contact me at info@lynndaophotography.com to receive more details regarding the special packages available for the marathon.
How soon do I have to book the session by?
The sooner the better since space is limited. The marathon will go from 9-4pm on November 20th.
What should I bring?
Once you've booked a session, you will receive a PDF of information on how to prepare for your session as well as suggestions for outfits, etc.
If you have any more questions about this event, please feel free to call or email me!
858-869-4588 or info@lynndaophotography.com
{Phoenix Boudoir Photography} {Arizona Boudoir Photography}
Labels:
Boudoir
|
0 comments
|
Links to this post
Blog Archive

Contributors