Tuesday, May 24, 2011
10:12 AM |
Posted by Lynn Dao Photography
After our trek got cut short, we had a couple of extra days to hang around Cusco. Arturo, our trek guide, offered to take us around town for a bit since he was free. We had lunch with him and his girlfriend (who I tried to converse with in Spanish -I'm sure we only understood about half of what each other were saying, but smiles, nods, and confused looks go a long way.) They took us to the San Pedro market where Cusquenos go to get their fresh meats, breads, and produce. This indoor market was huge, and it was awesome. Every aisle had a theme. The fruit aisle, the grain aisle, the meat aisle, the baked goods aisle, etc.
We're big fruit lovers and bought a lot from this aisle.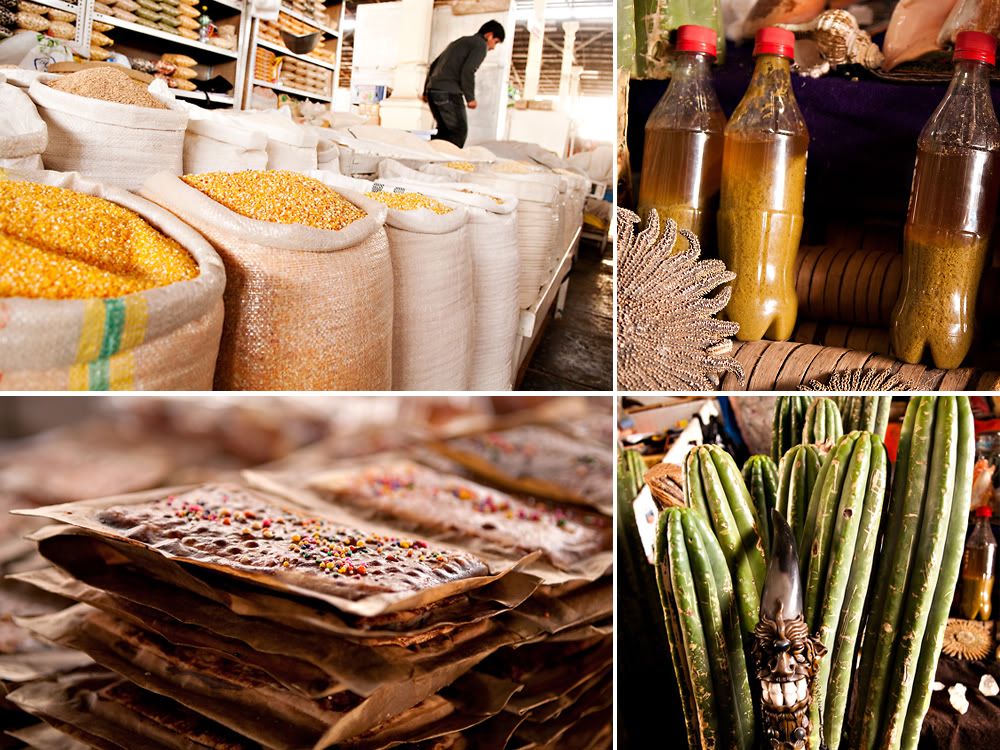 The two images on the right are of a shaman booth with healing plants and concoctions. Too bad the booth owner wasn't around so I could (or more likely Arturo) ask them about all the different plants and their healing properties. That stuff fascinates me.
Right outside the market in this little courtyard is a place where they sell guinea pigs, and if you read the first Peru blog post, you'll know that these cute little furries aren't being sold as pets.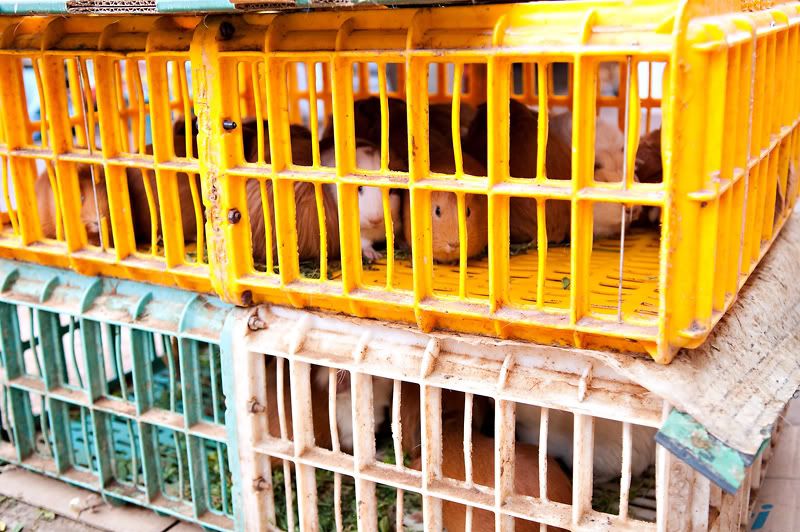 After roaming through the market, we went to grab mango shakes and then exchanged warm good-byes with Arturo and his girlfriend. The next day, we hopped in a van and headed to Ollantaytambo. Our driver didn't speak much English so once again I had to break out my broken Spanish, which was actually getting better and better every time I spoke. =) (Well, in my mind at least.) Along the way, we drove past a car accident, so our driver stopped along the side of the road. Drew ran up to the scene to see if anyone was hurt, while our driver took out his video camera and started recording the event. So of course, I had to snap one myself.
Luckily, everyone was ok. I love how they made do with what they got to pull this van out of the ditch, which was a bulldozer and a rope. Awesome.
In the travel books, I had read about chicha, a maize beer drunk by the Incans during rituals and still consumed today by many Peruvians in the Andes. We had a little conversation with our driver about chicha, so when we started passing by chicha houses, he asked if we wanted to try some. Clearly we all know the answer here.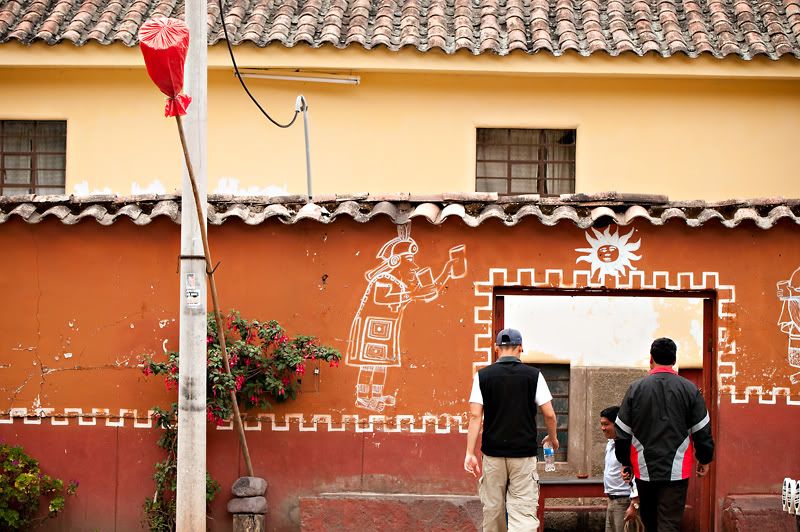 Chicha houses are marked by a red "flag" hanging on a pole outside.
Inside...
Our gracious hostess poured us two types of chicha, plain and strawberry flavored (We both liked strawberry a lot more).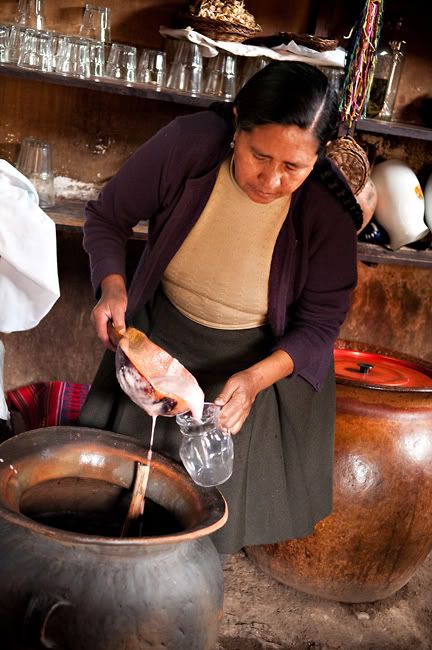 Right outside in the courtyard is a drinking game. We have darts, Peruvians have a coin eating frog.
Chicha has a very low alcohol content (1-3%), so we had no excuse for sucking at this game, but we did. The ultimate goal is to have your coin land inside the frog's mouth, though having the coins fall through one of the holes scores some points too. This game was so fun that I propose some bars here in Phoenix start carrying this.
After a two hour drive, we arrived in Ollantaytambo, a former royal estate of Incan ruler, Pachacuti. Having a few hours to spare before our train to Aguas Calientes, we explored the ruins for a bit, sans guide. The ruins were interesting, but I'm sure it would've been better if we had someone explaining the features to us. We wandered around playing guessing games with everything we saw.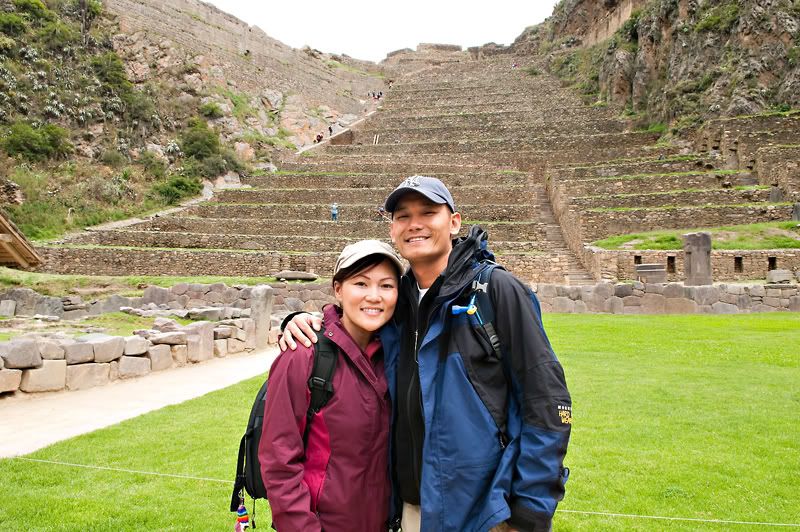 Tons of steep steps weren't exactly enticing that day, but we trekked up to the top anyway.
Ok, it was worth the climb to get a 360 degree view of the city. (This isn't even the top actually!)
After a short exploration, we headed back to the main plaza. On the way is a little market selling all sorts of hand-made items to tourists. I LOVE these masks and wanted to get one for Drew, but he refuses to ever wear it. Party pooper.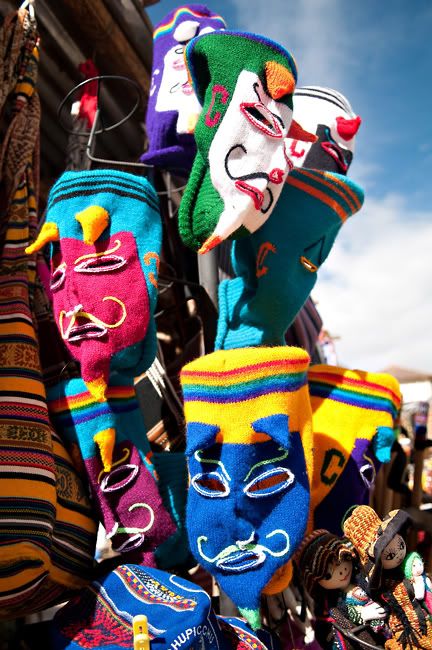 I love this pic.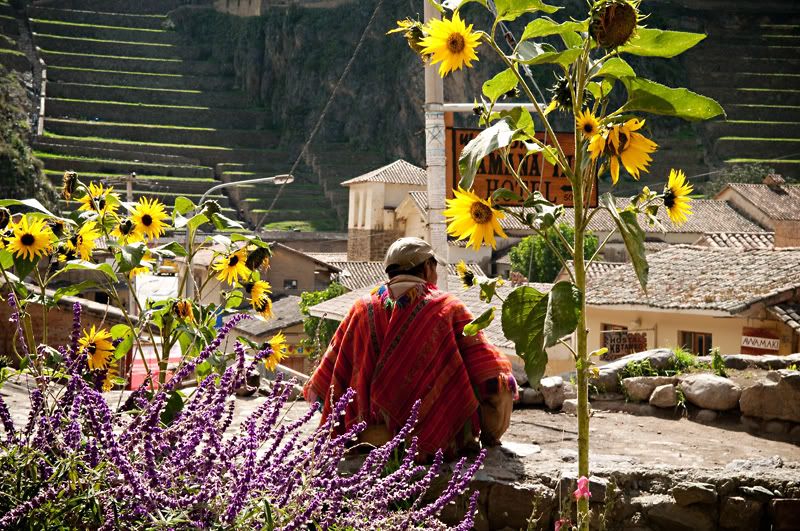 In town, there's a mix of old and new. Many still wear their traditional ponchos.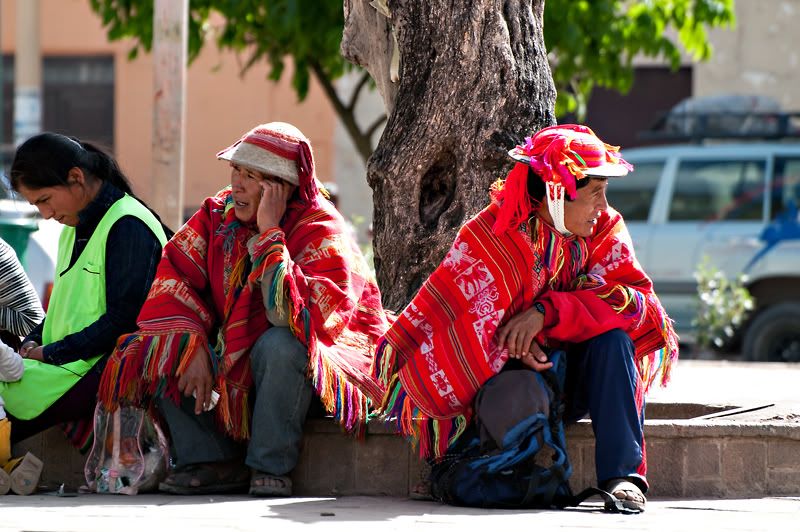 On top of almost every home in the this part of Peru are two bulls affixed to a cross, meant to bring protection, prosperity and fertility to the household.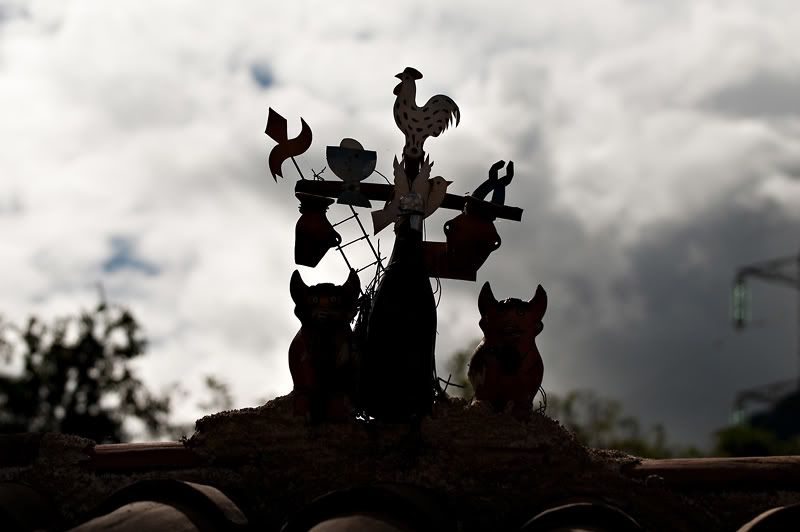 If you're ever in Ollantaytambo, which you most likely would be if you're traveling to Machu Picchu, please go eat at
Hearts Cafe
! Not only is the food really delicious, but the woman and cause behind the restaurant are incredible.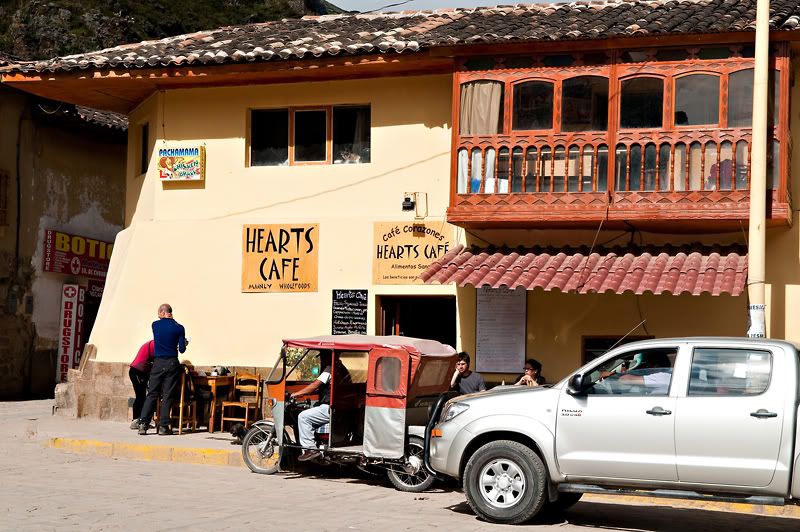 Opened in 2007 by then 76 year old Englishwoman Sonia Newhouse, most of the proceeds go to Living Heart, a charity started by Newhouse to help break the cycle of poverty, domestic abuse, malnutrition, and lack of education for women and children the in Sacred Valley. The best thing about
Living Heart
is that they don't just give to the native peoples, they teach them how to become self-sufficient. Living Heart does so much good that you really have to explore their website and see for yourself.
After lunch, we headed over to catch the train to Aguas Calientes, the pit stop for Machu Picchu. The train ride was beautiful. Awesome scenery along the way, and as we got closer to Aguas Calientes, orchids started to appear on the trees.
The rail went along the Urabamba River, which started off calm at Ollantaytambo, and then became this raging river that I'm sure thrill seeks would love to raft down.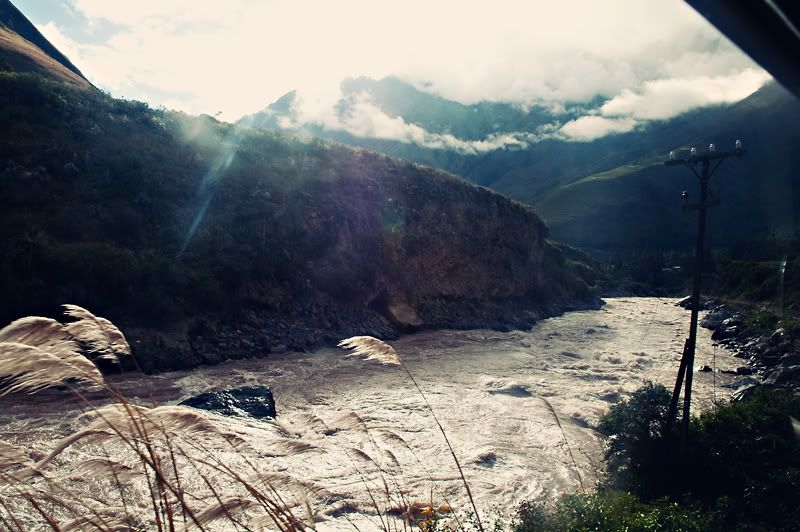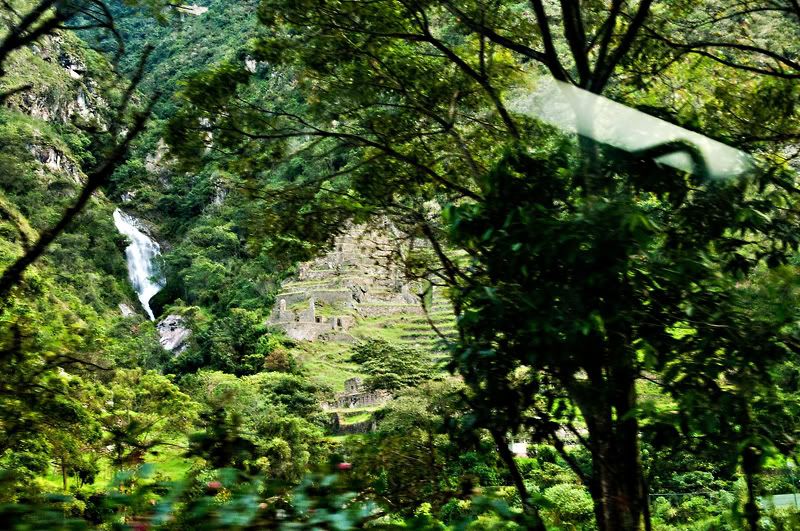 Our room at
Sumaq Hotel
was right next to the river. Unfortunately, when we got there, it was already dark so we didn't get to enjoy the view as much. Falling asleep to the sounds of the river was pretty cool though.
The next morning, we woke up super early to catch one of the first buses up Machu Picchu. Yes, finally! Next post will be all Machu Picchu! =)
Labels:
Travel
|
0 comments
|
Links to this post
Blog Archive

Contributors