Monday, March 12, 2012
1:30 PM |
Posted by Lynn Dao Photography
For the other half of our Costa Rica trip, Drew and I ventured first to the Osa Peninsula, in the southwest corner of the country. Our reason for coming here was to be immersed in the flora and fauna of the jungle. The Osa Peninsula has been declared by Nat Geo Magazine as "the most biologically intense places on earth", so if you're into seeing and learning about the rainforest and it's creatures, come here!
OSA PENINSULA
At the airport with our beautiful little plane.
Everyone on the plane gets picked up by the same truck no matter where you're staying and get dropped off at our respective hotels. We got dropped off at the beach and had to take a little boat ride over to our lodge, the
Aguila de Osa
. I can't say enough good things about this place. It is just phenomenal and if you want to know more, please check out their
website
or
Trip Advisor reviews
.
It's not a large place, only 11 spectacular rooms and 2 suites, all with an ocean view from up high. This is the view from our balcony.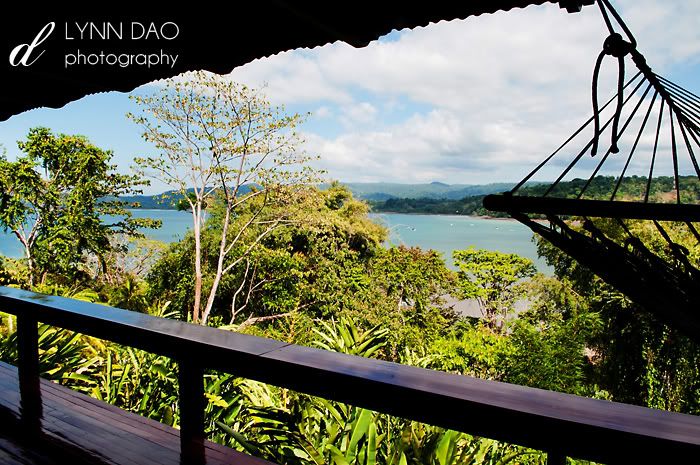 Rocking chairs and a hammock on the balcony make for some nice relaxation time.
There are no glass windows, only screens, which is ideal when you have the ocean breeze blowing your way. No TV, no AC. Just a beautiful room for anyone who loves nature, but also loves having their creature comforts - i.e., a bed, toilet, and shower.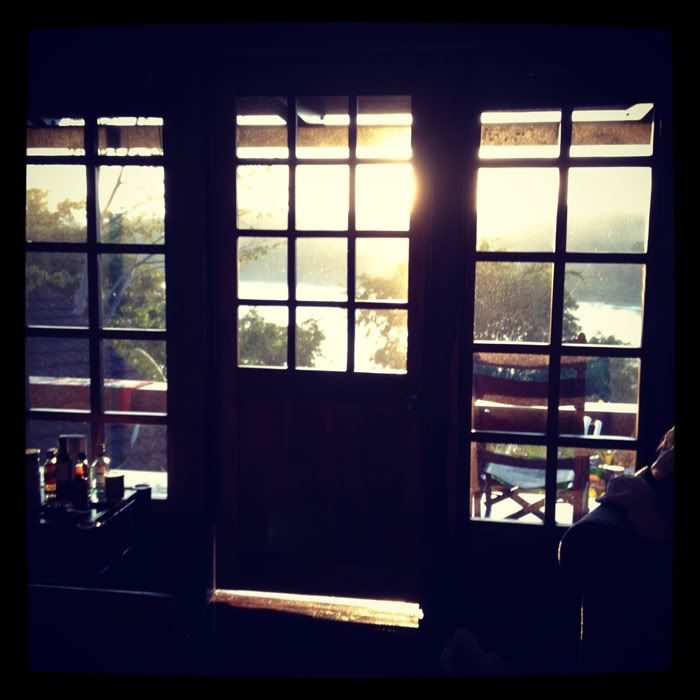 Drew spotted this yellow leaf praying mantis on our balcony one day. So cool!!!
In the main dining area, it's all open air and looks out onto the ocean.
It's a little bit of a trek uphill to our room. Good workout! I love how there's a fat sign reminding everyone to pick up their key at the front desk. (You leave it there when you go out on excursions). It sucks to walk all that way up and then realize you forgot your key!
The view of Drake Bay from Aguila de Osa.
One of the things I love about staying here is the communal dining. Cocktail hour and dinner is held at the same time everyday for all guests so it's a great way to get to know other travelers, where they're from, where they've been, etc. Not only that, but the food here is as fresh as it gets. Fish caught during the day is served in the evening, and produce is organically grown.
Another plus about this place? The kayaks that are available for guests to take down the river. It's an easy paddle and you feel like you've just gone back in time. Greenery surrounds you and the river water is so clear that you can see tons of fishing swimming around you.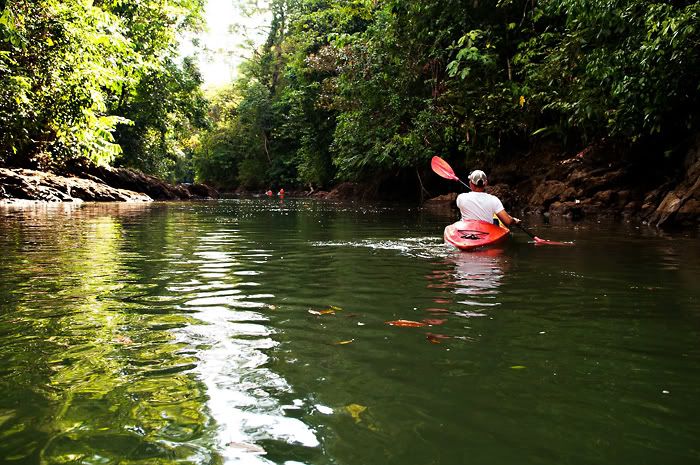 There's a lovely beach you can walk to about 15 minutes away. We spent an afternoon lazing around under coconut trees.
I noticed that at first I was laying directly underneath a coconut and decided to move. Good thing because the next day, I heard a story about a woman who had a coconut fall on her knee and she had to be taken to the hospital!
One of my favorite images from the trip taken with my point & shoot.
It's been said over and over, the best camera is the one you have on you. (Sometimes that DSLR is just too big to lug around everywhere!)
On our second day, we went on a guided hike to Corcovado National Park. This place is incredibly ecologically diverse and anyone venturing in will easily see why.
All I have to say is, go with a guide if you come here. Tony, our guide from the Aguila, walked into this spider's web face first and saved the rest of us from a potentially traumatic experience, so thank you Tony!
We stayed and watched it go for some lunch.
On our hike, we meandered in and out of the forest and onto the beach. A trail of tapir pawprints on the sand.
One the most awe-inspiring creatures to see was the scarlet macaw.
A coati.
Monkey! I think this was a spider monkey -looking straight at me.
And my all-time favorite Costa Rican animal, the sloth! They are sooooo cute! We found a baby and it's mama up in a tree.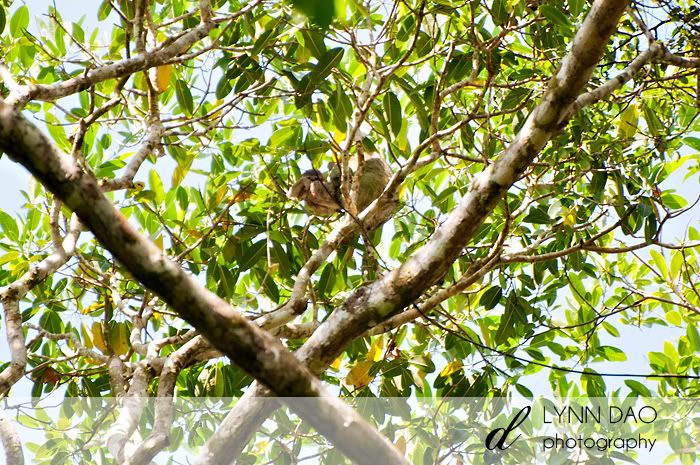 Day 3, we took a boat out to Cano Island and did some snorkeling. Not the best snorkeling I've done (visibility and marine life in the areas we snorkeled at were so so), but then Drew and I both got nauseous and had to sit out of the second half of the trip, so we missed out on some rays and eels that others saw at the second spot.
The best part the trip (for us) was the ride back when we saw a mother and baby humpback whales swimming by.
ARENAL VOLCANO, TABACON HOT SPRINGS
On our little plane ride up to the Arenal Volcano area, we met a guy who was working on the set of "After Earth" with Will and Jaden Smith. The guy apparently got bit by a snake and had to be flown to the capital for treatment. Of course, before we all parted ways, I had to know (since I was shocked when I first heard the rumor)...is Will Smith gay? According to this guy, no. So there you have it. Will Smith is not gay. Moving on!
Tabacon Hot Springs
.
"While many hot springs resorts drill for underground wells and depend on pumps and mechanical systems to fill their pools, Tabacon is completely natural. Water flows by gravity throughout the property, forming in-river pools, waterfalls, and cascades."
Thermal Springs in Costa Rica , Energy Times, July/August 2011
What more is there to say besides, come here when you visit Costa Rica! It's a large, beautifully landscaped property with plenty of hot springs pools for guests to relax their sore muscles in.
The town of La Fortuna is nearby for good local eats. Of course, there's the overpriced tourist joints, but there are also some local sodas (as they call them) serving delicious comidas tipicas (typical meals). Soda Visquez is one of them and their casados are delicious! You can't beat five dollars for an outstanding meal.
Rice, black beans, plantains, potatoes, beet salad, green salad, and a saucy meat of your choice.
While in town, we saw the place we stayed at the first time we traveled in Costa Rica. I think it was $12/night back then in the rainy season. I had to ask how much as a comparison. Now, $65/night during dry season. It looks like they've also expanded quite a bit. Good for them!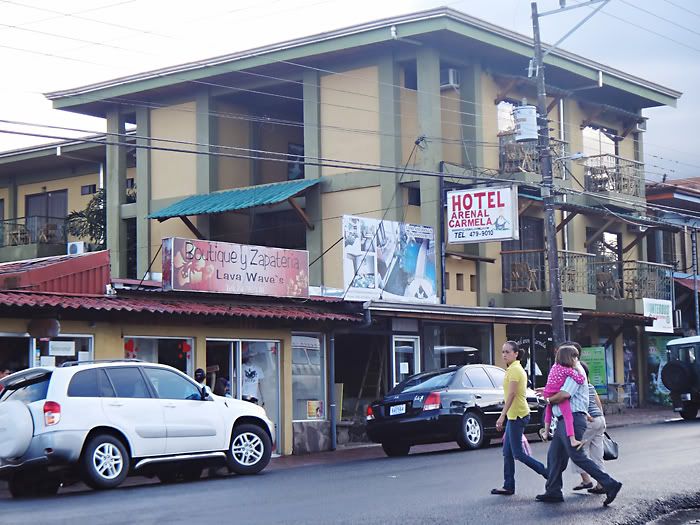 After a full day of lounging around at the hotsprings, we decided to be a little more active the next day and go kayaking with
Canoa Adventures
. Our guide, Julio, was outstanding. He was great at spotting animals everywhere and telling us tons of facts about each of them.
Clockwise from top left: bat under a banana leaf, happy croc on the side of the river (probably happy because potential lunch was floating down his way), the blue jeans frog, and the Jesus Christ lizard (known for its amazing ability to run on water).
And I'll end this blog post with an image of Arenal Volcano. It had been erupting from 1968-2010 and is now in a dormant phase. Still looks magnificent and we were lucky to have such a clear view of it on our trip this time. Last time it was so cloudy that we never got to see the peak.
Thanks for taking the time to look and read through this post (if you made it this far!) If you're thinking about taking a two week trip and doing some unforgettable adventurous excursions, Costa Rica is an excellent choice. Happy Travels!
Labels:
Travel
|
0 comments
|
Links to this post
Blog Archive

Contributors