Monday, March 5, 2012
9:41 AM |
Posted by Lynn Dao Photography
Costa Rica. Who wouldn't want to visit a country whose motto is "Pura Vida"? (Translation: Pure Life). The best part is, all the Ticos (native Costa Ricans) say it to each other as a greeting and a farewell. I guess it's similar to Americans saying "How are you?" and "Have a great day."
Drew and I backpacked through Costa Rica for a month for our honeymoon in 2004. There's so much to do and see in CR that we were never bored. Our first ziplining experience was in Monteverde's cloud forest and it was incredible.
During that month, we went scuba diving, kayaking with crocs, hiking to see plenty of animals, white water rafting, waterfall rapelling, surfing, and who knows what else. If you're one of those people who can't sit still for very long on vacation, then this is the place for you.
This time around, we had two weeks, so we decided to stay in only three different parts of the country. Our main reason for going was to attend a surf yoga retreat for a week. After some research, we found
Vajra Sol
and with its amazing reviews on
TripAdvisor
, we decided to book. All the reviewers were spot on - this retreat did not disappoint in any way and after a week, not one soul in the group wanted to leave. In fact, this is actually the first vacation where Drew and I are seriously planning on returning the next year because it was that great!
The retreat is held at
Pranamar Villas
which sits beachfront on Playa Hermosa in Santa Teresa, a pristine beach with views of either the ocean or the jungle. Hotels are not allowed to build right on the beach, so when you're walking, you see green jungle hugging the beach, not concrete jungle. Instead of describing this beautiful gem of a place, I'll do my best with photos. (Note: photos are from my DSLR, point and shoot, iPhone, and Sandra's (Vajra Sol) camera)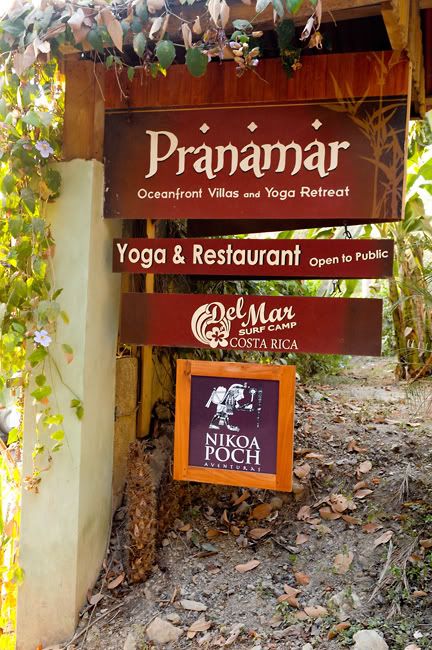 The flora here is amazing.
Our garden bungalow:
One evening, a group of howler monkeys came right up to the tree behind our bungalow!
Baby!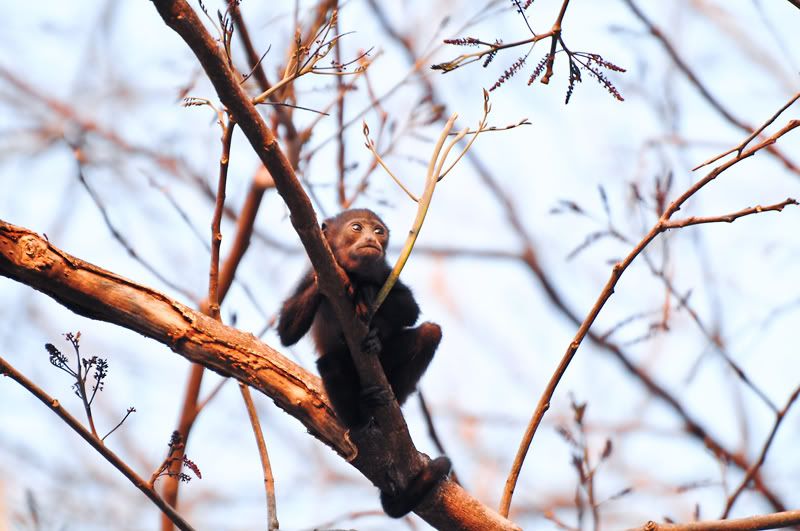 What I love about Pranamar Villas is that it's not a large scale resort. It's small, intimate, and very elegantly put together.
The view from the restaurant out to the pool. On the left is a poolside villa. Yes, you too can wake up, take 10 steps and go for a dip in the pool. Afterwards, walk a few more steps into the restaurant, where you'll be served some of the most delicious and healthy meals you've ever had.
In addition to fruit smoothies, here's a sampling of some of our meals from the week:
Clockwise from top left: fish tacos, corn arepas with bacon, lettuce, tomato, banana pancakes, and lentil burger with sweet potato fries.
Another poolside villa.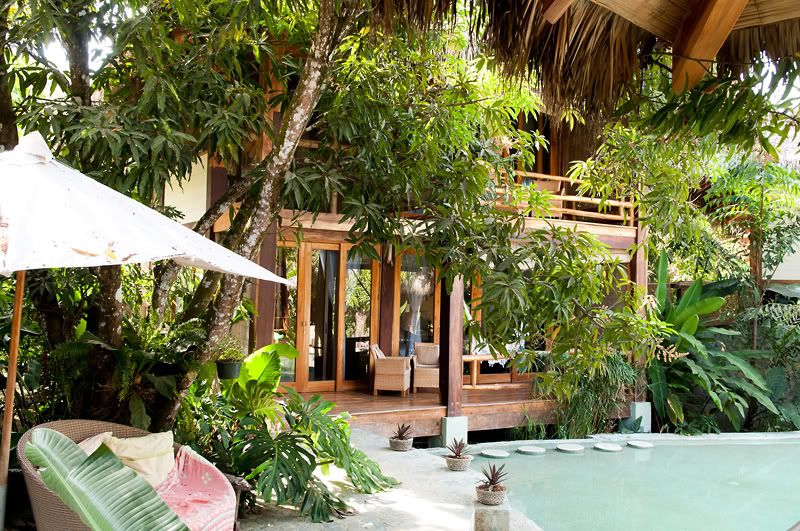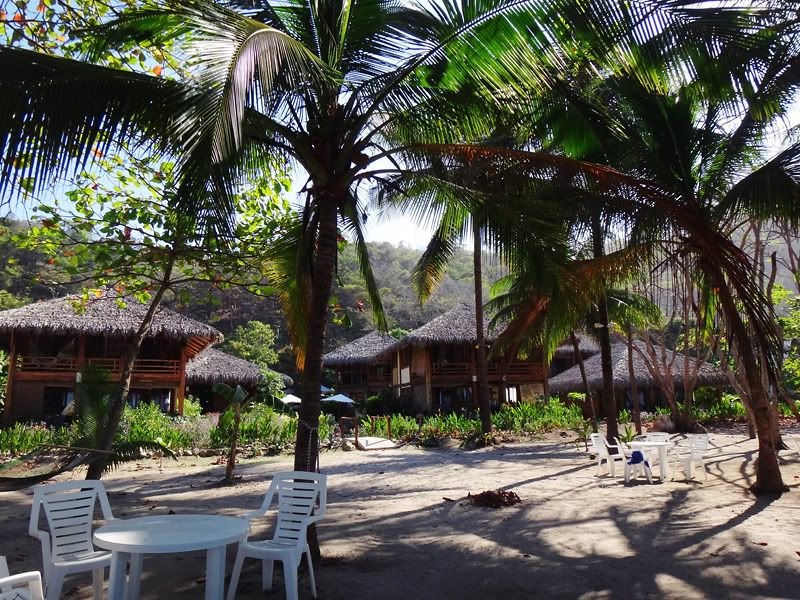 The walk out to the beach.
They're growing tomatoes on the beach!
Ok, onto one of the best retreat ever:
Vajra Sol Adventures
. I don't think Drew and I can say enough about how much of a positive impact this retreat has made on our minds, bodies, and souls. We felt connected again to nature, to each other, and to ourselves. The retreat went beyond just fun and relaxation, it helped us delve deeper into our own spiritual realms.
Sandra
is not only a wonderful yoga instructor, but she has an amazing life story as well. Her tranquil demeanor puts you at ease, and left Drew wondering if she ever loses her cool. The answer: it's very rare these days. I guess if you're a true yogi, you find ways to manage stress very well. Sandra organizes outstanding yoga retreats throughout the year that incorporates fun activities, fantastic groups of people, delicious healthy food, at top notch locations.
Sandra-whose retreats have sent home many refreshed and glowing souls. And Monica, whose effervescent personality always puts a smile on people's faces. They make a great team.
Our group for this particular surf yoga retreat consisted of five working professionals in our 20's and 30's. Two from California, two from Arizona, and one from Canada. Drew was the only guy...score! We formed friendships by the end of the week after many belly-aching laughs, daily meals, surfing, and practicing yoga together.
Every morning we woke up and had breakfast together which included coffee, a smoothie, and some awesome breakfast menu item. After some digesting time, we'd head out to meet our surf instructors. We then carried our boards five minutes down the beach to the prime surf area and started our lessons.
The instructors were great and Drew and I were up on our boards by Day 1!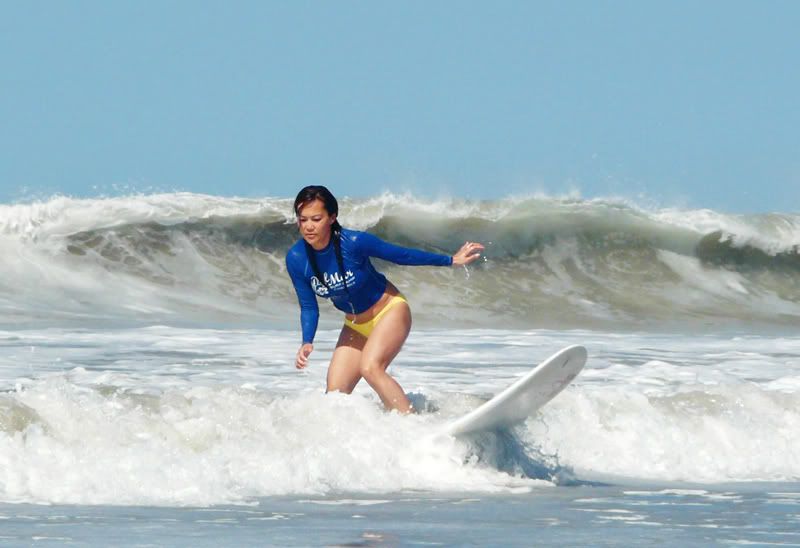 One of the girls in our group works for Quiksilver and by the end of the week, Drew asked if they'd want to sponsor him -Whitewater Champ!
After two hours of surfing, we'd head back and have lunch together. The chefs at Pranamar always did a fantastic job of surprising us with something new every day for lunch. The food was so good that our group wanted them to come out with a cookbook so we could make these meals when we got home. (Susan, one of Pranamar's owners, says it's in the works!)
In the afternoons, we all met in the yoga shala of Pranamar. What better way to practice yoga than to look out onto the ocean while standing in tree pose?
We had a different practice every day and Sandra was very good about accommodating all our different levels.
Drew was sweating buckets during every practice, but he stuck with it and has actually come to appreciate and like doing yoga. I'm so happy about that!
This was a fun one.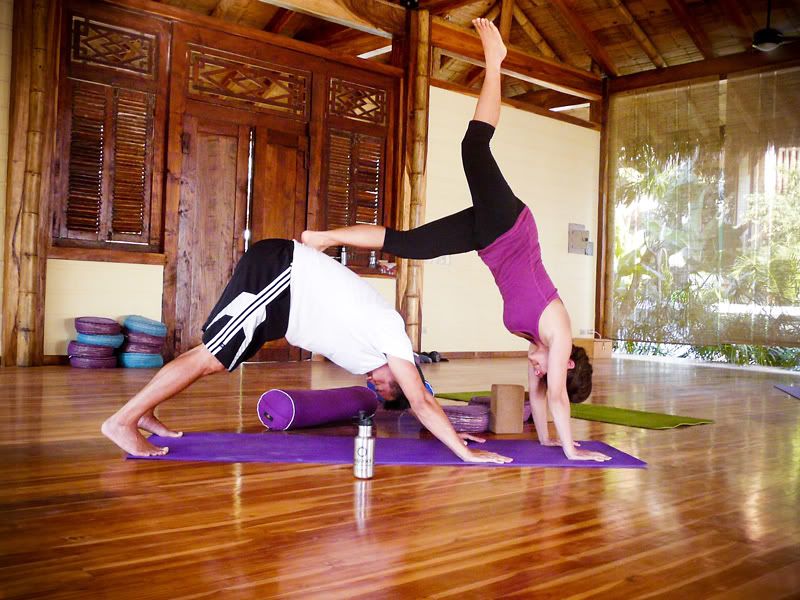 Our surf yoga group with Sandra and fresh coconuts in our hands!
Included in the retreat is a much needed and appreciated massage, right out on the beach.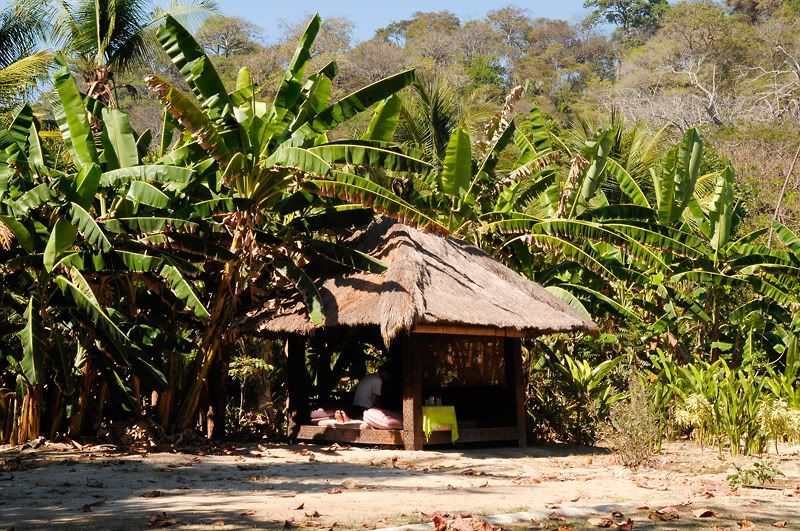 (Those in the know can probably spot Drew's big toes sticking out!)
A few nights during the week, Sandra took us out to town for dinner. On our last night, we dined up in the mountains with an incredibly expansive view of the ocean. A beautiful way to end one of the best weeks we've ever spent traveling. Good food, good friends, good times!
Drew and I are already looking forward to going back! The best part is, whenever we need to find tranquility and happiness, we immediately start thinking about our week with our surf yoga group at Vajra Sol. Thank you so much Sandra and Monica for a truly unforgettable experience.
Labels:
Travel
Blog Archive

Contributors