Wednesday, February 2, 2011
10:49 PM |
Posted by Lynn Dao Photography
I guess I should be more specific. Happy Chinese New Year! February 3, 2011 is the official start of the new lunar year and bajillions of Asians will don red outfits and be out celebrating at temples tonight. Lots of incense will be burned, firecrackers lit, and mandarins or tangerines will be gobbled down. On the day of New Years, everyone will call (or text I guess for the younger generations) family and friends and wish them good health and prosperity for the year. Little kids receive red envelopes with money -(always a favorite holiday for Asian kids!) It's a happy holiday!
So this year, 2011, is the year of the Rabbit. If you're not sure what Chinese Zodiac sign you are, click
here
and you can easily find it by your birth year. And if you're lucky, you'll be a rabbit like me! There are 12 animals, each with their own unique characteristics. It's interesting to read different sites and see what they have to say about each animal. Even more interesting to think about how the descriptions fit (or not) you, a family member, or close friend.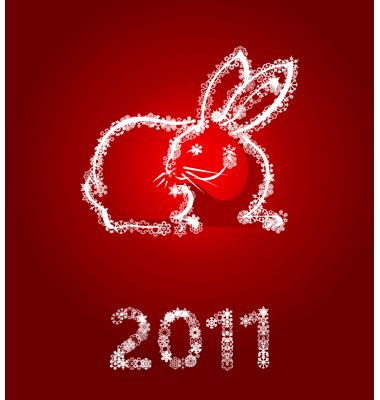 And here's more fun tidbits for those of you who were born in the year of the rabbit:
Hare is a symbol of purity and gentleness. Hare year can be a time of peace, calm, rest, and renewal. Last year was a hectic Tiger year; enjoy the quiet pleasures that Hare year brings. If you are born in the year of the Hare (1903, 1915, 1927, 1939, 1951, 1963, 1957, 1987, 1988, and 2011) then this is your year to shine. Hare people are gentle, sensitive, artistic, and refined. They prefer peaceful solutions over fighting, are skilled in business, and value home and family.
Happy New Year Everyone!!!! May you all have good health and a wealth of love in your lives!!!
and just for fun...
Labels:
Personal
Blog Archive

Contributors