Thursday, May 5, 2011
2:30 PM |
Posted by Lynn Dao Photography
Peru, Peru, I love Peru! A land filled with culture, amazing food, and breathtaking scenery. What's not to love?
Drew and I flew into Lima and out to Cusco, the former Incan capital, the day after. I had no idea what to expect, but was so excited when we arrived in this bustling city with big, old world charm. Narrow cobblestone streets and Spanish influenced architecture built sometimes upon original Incan stones that were masterfully laid together were what captured my eyes while roaming around.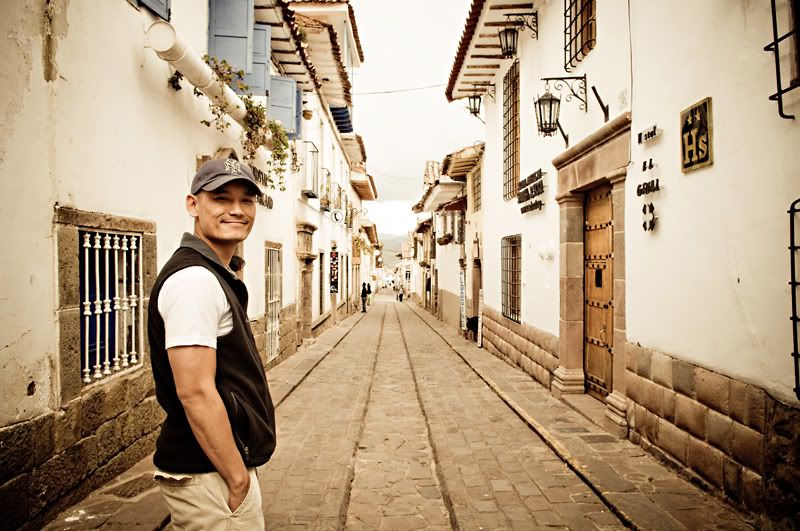 Peruvians are one of the friendliest peoples we've met on our travels, rivaling the people of Thailand. These two kids were so happily curious with my camera.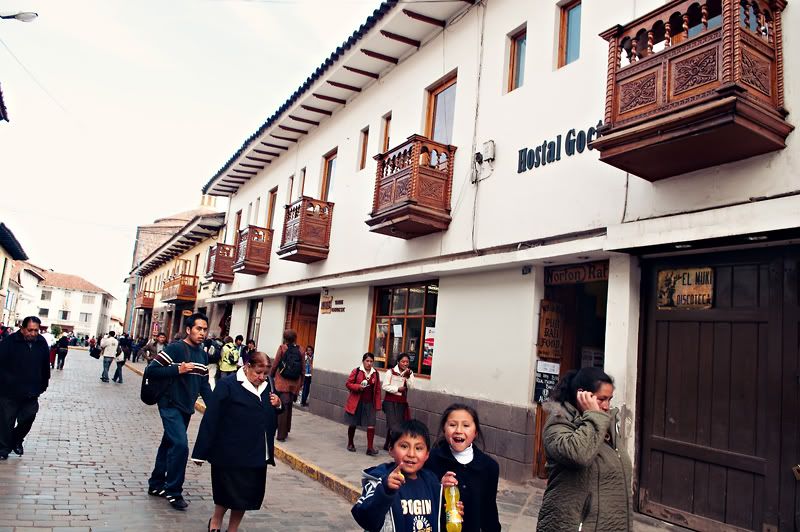 Cusco is definitely a crowded city. So many Peruvians move here from other parts of the country, and a lot of foreigners have fallen in love with this town and taken up residence here as well. Besides your own two feet, taxis are the best way of getting around. But with all the traffic, we easily walked everywhere, unless our destination was FAR away. (Note the white Ferrari taxi!)
On half of our stay, Drew and I stayed at
Second Home Cusco
. If you ever go to Cusco, I highly recommend staying here if you can get one of the bigger rooms. Carlos, the owner, and ALL of his staff are truly some of the nicest and most accommodating people we've ever met! When we had to leave for our trek one morning at 4am, Raul got up at 3am to make us breakfast before we left!
When we arrived, the first thing we were offered was coca tea. Not so we can get a big rush, but so we could acclimate to the high altitude of Cusco which sits at almost 11,000ft. Altitude sickness is sometimes a problem here for newcomers, and the coca tea really helps.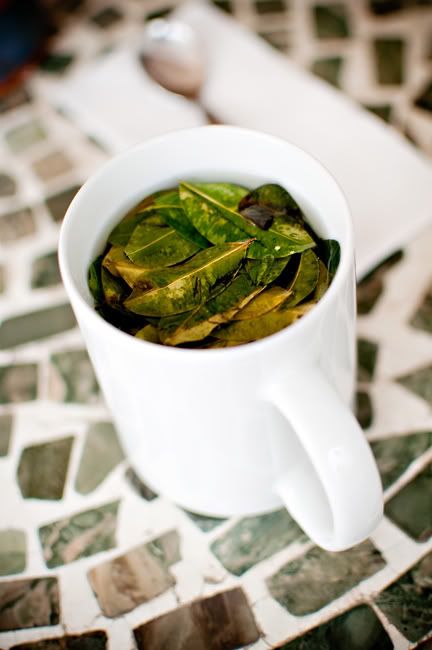 Two things really caught my eye when we entered Second Home Cusco. One was this beautifully hand-crafted pillow.
The other was the giant Puma fireplace made by Carlos' father, Victor Delfin -a famous Peruvian artist. And for those who like trivial knowledge, the city of Cusco was laid out in the shape of a Puma, which created some debate between me and Drew about whether we were staying near the head or tail end of it!
Once we got settled, we did some wandering around town. As much as I love this city, it was a bit annoying being constantly bombarded with vendors asking if we wanted to buy this or that or get a massage. Thank goodness we stayed in the San Blas neighborhood, which is a bit away from the main square. No harassment issues there! First thing Drew did though was buy a beanie from a lady who has a little shop near our B&B.
I liked her pigtails tied in the back.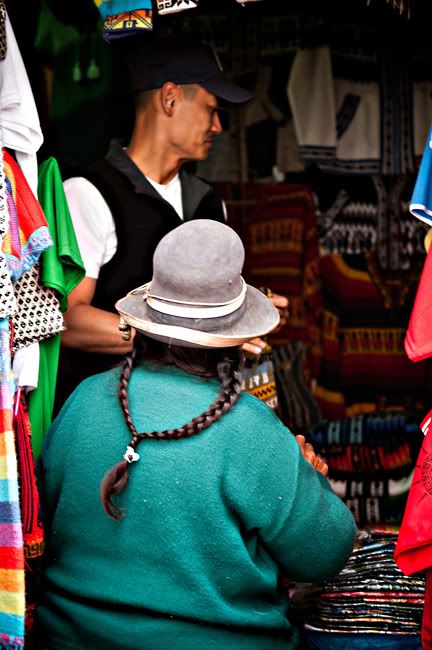 These are some of the steps we have to walk up to get to our B&B. Great exercise!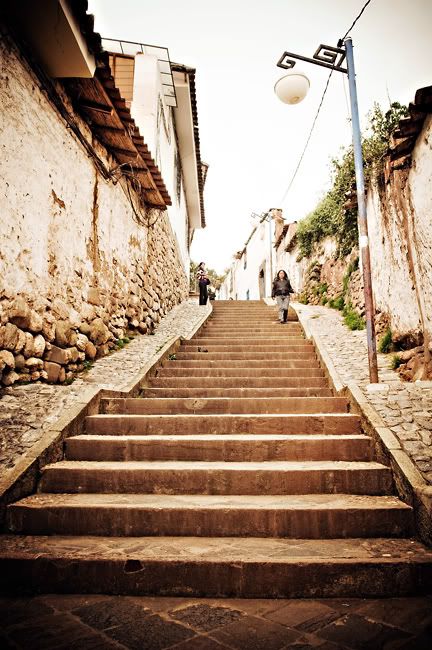 The street we took to get to the Plaza de Armas (the main square).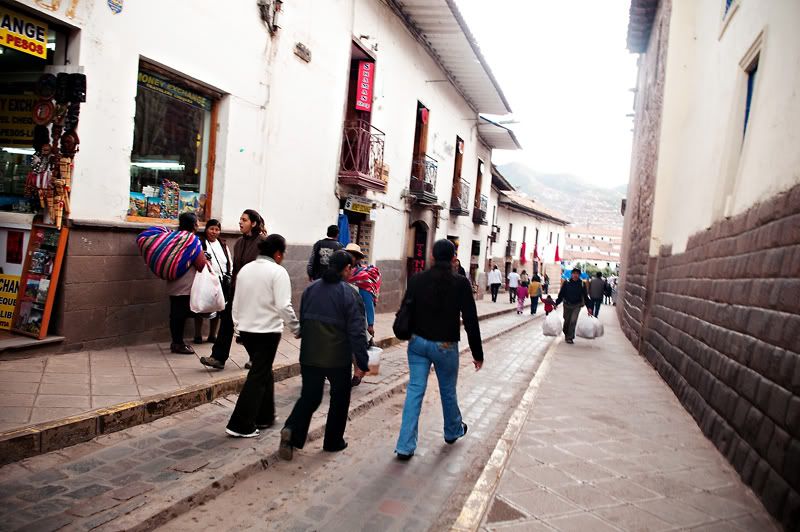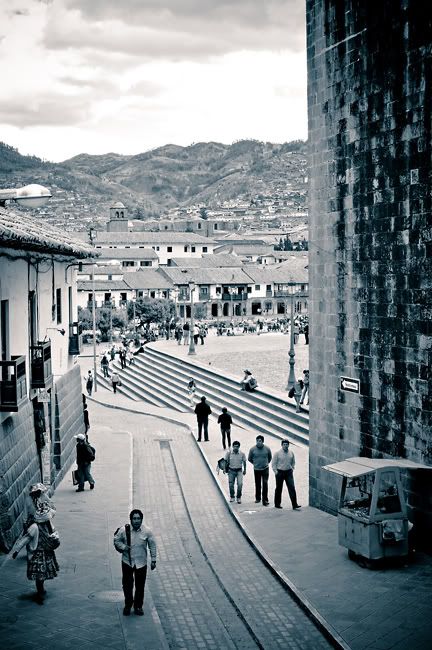 Around the main square, there are plenty of little girls and women dressed in traditional Cusqueno outfits holding baby llamas or lambs asking if you'd like to take a picture with them. Of course, on Day 1, I happily said yes! I asked them how much and the older girl said, "However much you want to pay." So I asked Drew for the change he had in his pocket and showed it to her, asking her if this was enough. She said yes. I took one picture of them, and the girl then asked me to come into the picture with them. I said ok and gave Drew the camera. After we took the second picture, both their smiles turned upside down and they started to tell me that that wasn't enough money I gave them. Being a former teacher, I told them that they should have told me that in the first place and that it wasn't nice to trick people like that. "Next time you need to tell people how much you want, and they will pay you that much for the picture, ok?." I walked away and the little one started chasing after me!
Aside from the aggressive vendors, Cusco is a wonderful town to explore. At times you can see amazing pieces of history as you're walking. Incan walls, with the stones cut to fit perfectly with no need for mortar, were hidden gems on some streets.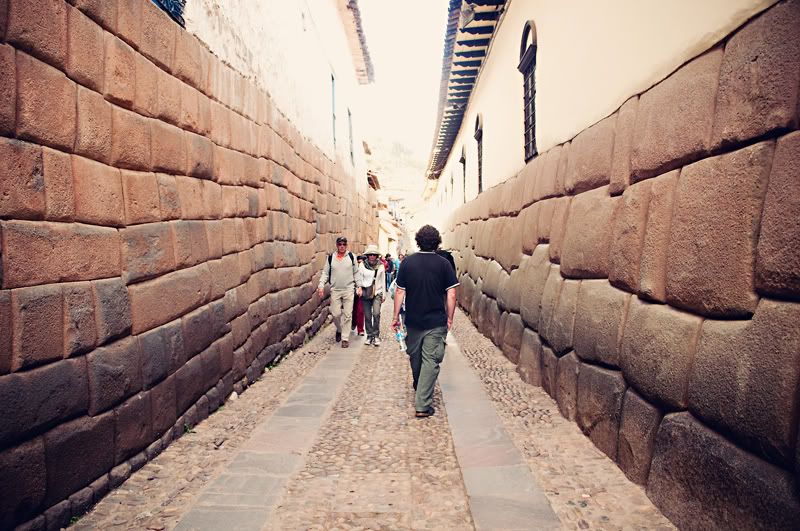 This stone, with 10 different angles, caught my eye.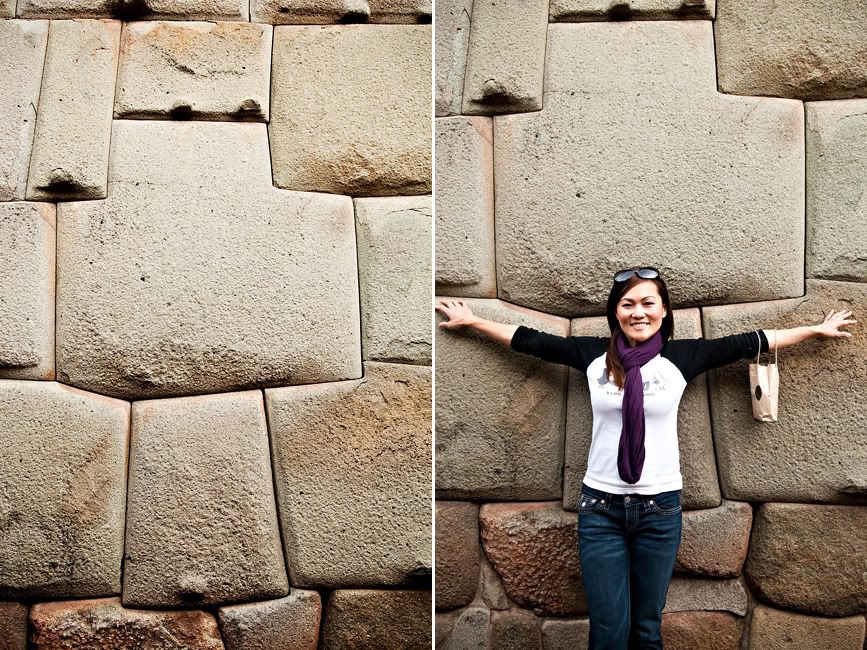 Drew and I are always fans of street food, so we had to get a stick of meat & potatoes, even though we're not usually meat & potatoes kind of people. It was good though!
A delicacy for Cusquenos is guinea pig. Yes, the dear, sweet furry animal we know as pets here in the States is made into a dish to be eaten on special occasions in Cusco. There were a few restaurants in Cusco serving this for tourists, so we had to try it.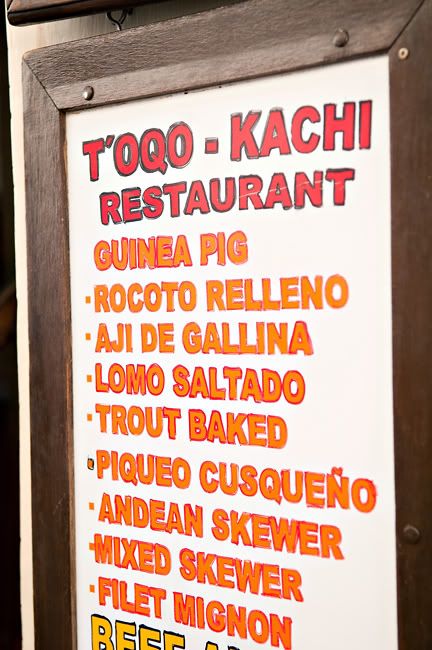 Drew, giving thanks to his food before devouring it moments later. I have to say, roasted guinea pig tastes pretty darn good.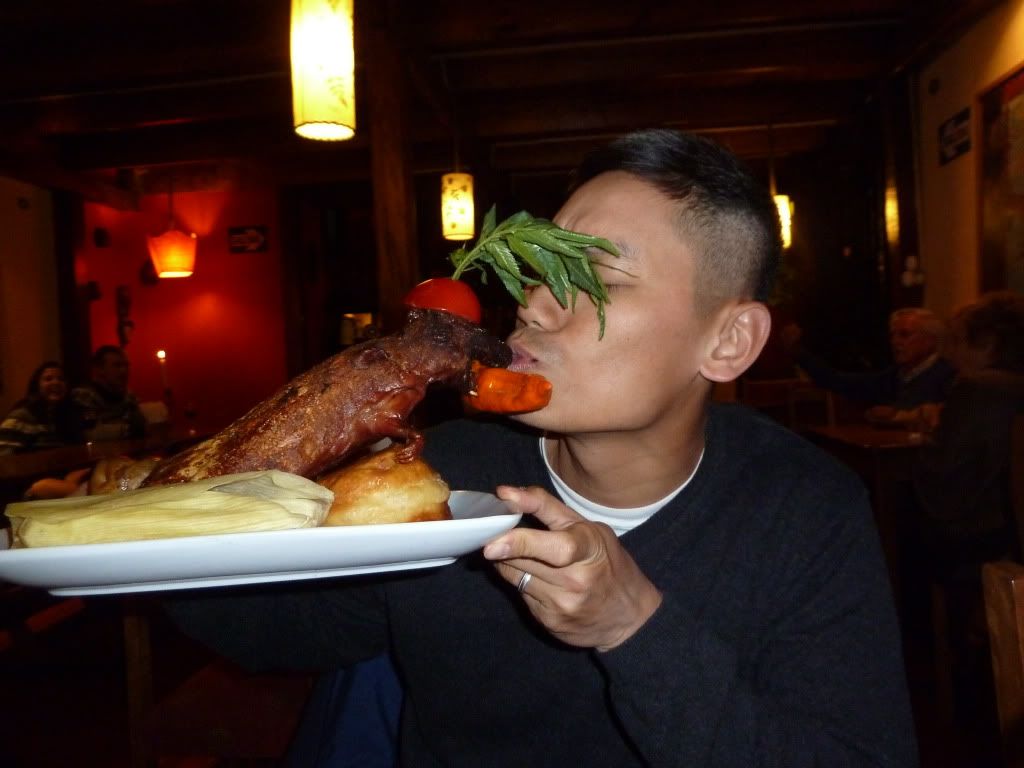 In the Plaza de Armas are a couple of churches, the Iglesia de la Compania being the largest.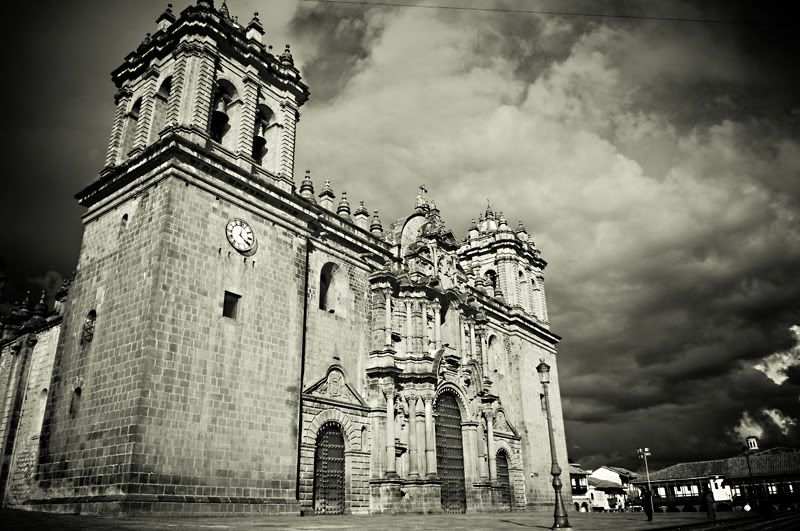 We happened to be in Cusco on Easter Monday, which is when tons of Cusquenos gather in the Plaza to honor Taitacha Temblores, the black Lord of Earthquakes.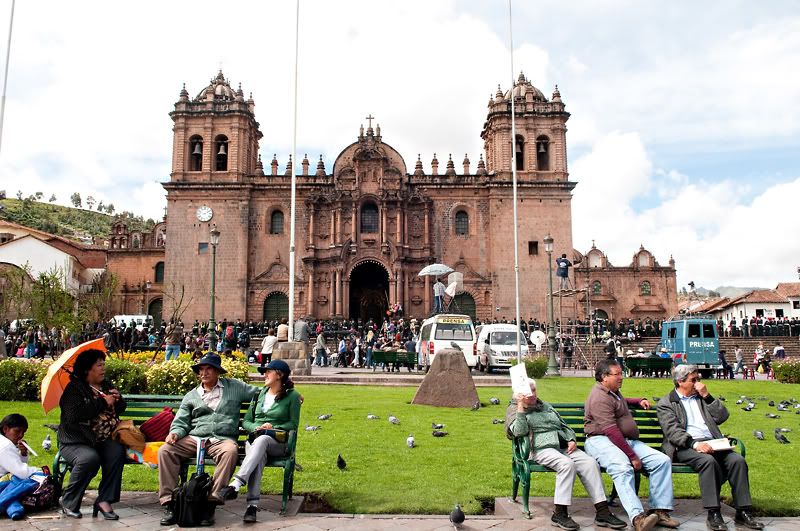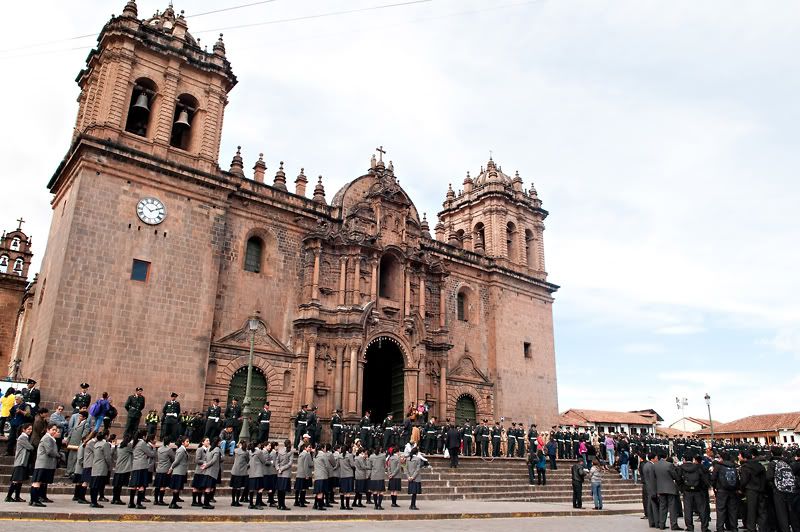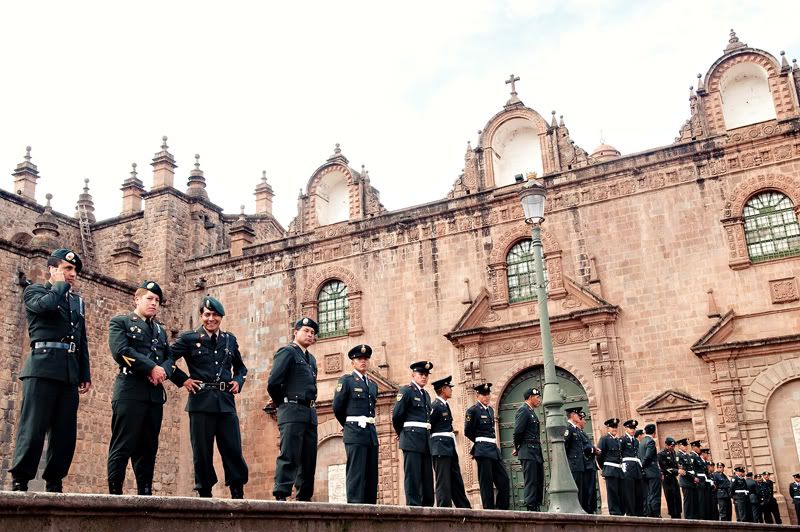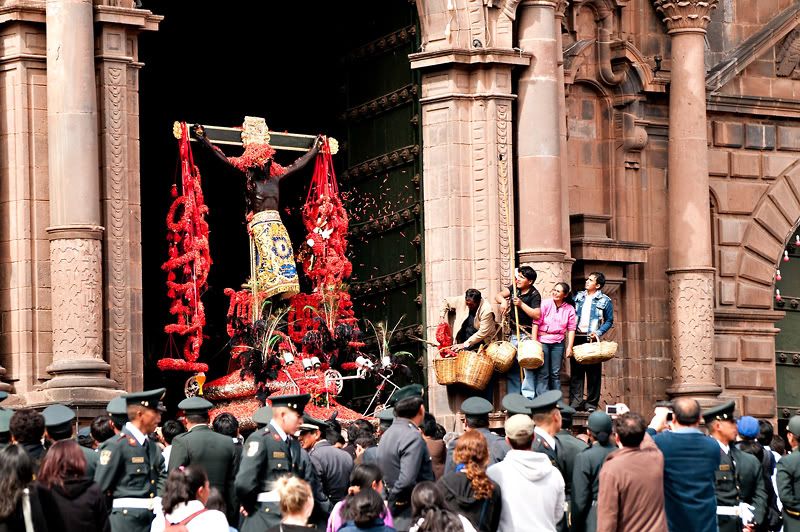 In 1650, a massive earthquake struck Cusco, and reportedly, a few Cusquenos decided to haul the statue of this black Jesus out, and the earthquake stopped. From then on, he has become known as Lord of Earthquakes and believed to protect Cusco from any future tremors. Now on Easter Monday, he is paraded around the plaza with people throwing red petals on him.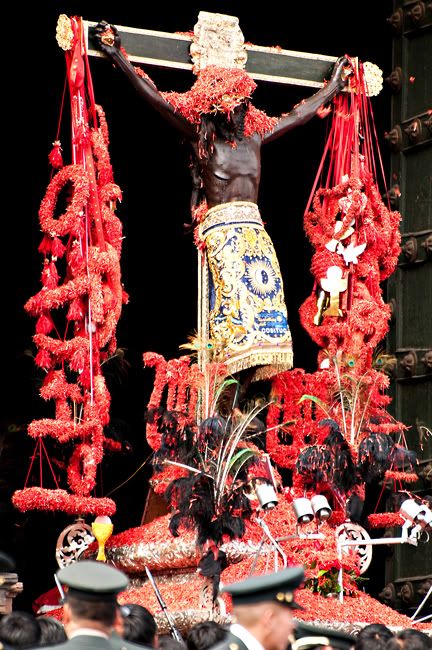 The celebration is huge and apparently lasts well into the night. We apparently had no idea how big it was and just saw tons of people out when we ventured into the plaza that night. Oh well, you snooze you lose kids!
After spending two days in Cusco, Drew and I ventured on a four day trek through Lares Valley. We should have spent one more day in Cusco though to acclimate, but more on that trip in the next post! =)
{Travel Photographer}
Labels:
Travel
Blog Archive

Contributors