Wednesday, May 11, 2011
10:45 AM |
Posted by Lynn Dao Photography
While searching for a company to go trekking with in Peru, you'll find tons of options. They mostly do the same treks and the Inca trail is the one that gets booked up months in advance. Since Peru was a last minute trip for us (we were supposed to go to Japan, but changed course after the earthquake/tsunami/nuclear reactor disasters), we were too late to receive permits for the Inca trail. So we opted to do the Lares trek instead and loved every minute of it!
We chose to do our trek with
Apus Peru
for two reasons. One was that they treat and pay all their workers well (guide, cook, porters), and two, they donate 5% of their profits to
Threads of Peru
, a nonprofit that brings weavings of indigenous Peruvians to the international community by selling their weavings on ebay.
In the wee hours of the morning, Drew and I had to drag ourselves out of bed to get ready for our 4am pickup. In the van were our driver, cook (Herbert), and most awesome guide (Arturo), along with all the supplies and equipment we'd need for our four day trek. We slept through most of the ride until the sun started to slowly peep out.
Heading high up mountains. Altitude sickness definitely came into play later in the day.
We arrived at the village of our porters a few hours later. They were a father/son team who brought along their two mules and horse. Breakfast was laid out for us on a small table with plenty of food and three chairs set up for us and Arturo. This was way more than what I had expected!
Our team for the Lares Trek. I felt like we had the best guide, cook, and porters that any trekker could've asked for. They were all the nicest, most accommodating, helpful people! (From top: me, Arturo (guide), Cesar (porter), Drew (who looks like a staff member -he was mistaken for being Peruvian so many times!), Cesar's son (porter), and Herbert (cook).
After breakfast, poor Drew threw everything back up because he had gotten food poisoning from the night before. He blamed it on the guinea pig, but since I had eaten it as well, we concluded that the culprit was the lemonade he drank. I had bottled water with dinner that night. We almost didn't go on the trek because at 2am that morning, he woke up with a high fever and started vomiting. Being the trooper that he is, he wanted to give it a go. So we went. And we're both so glad that we did, despite the poor guy suffering so much, and here's why.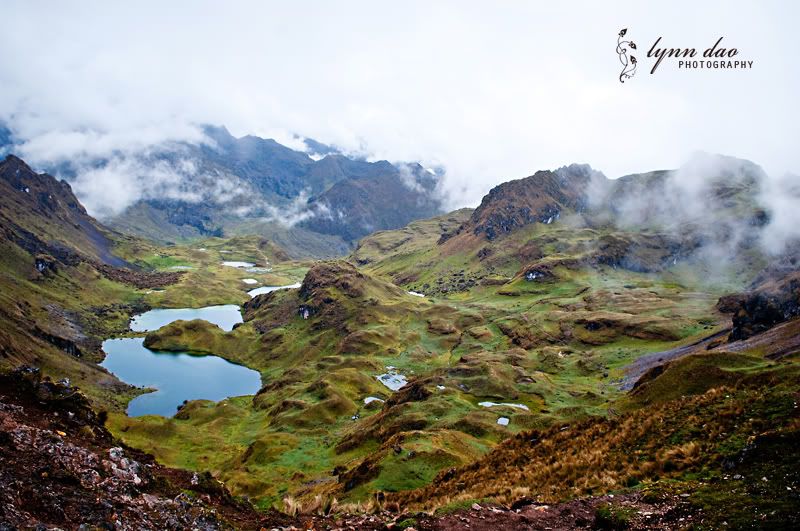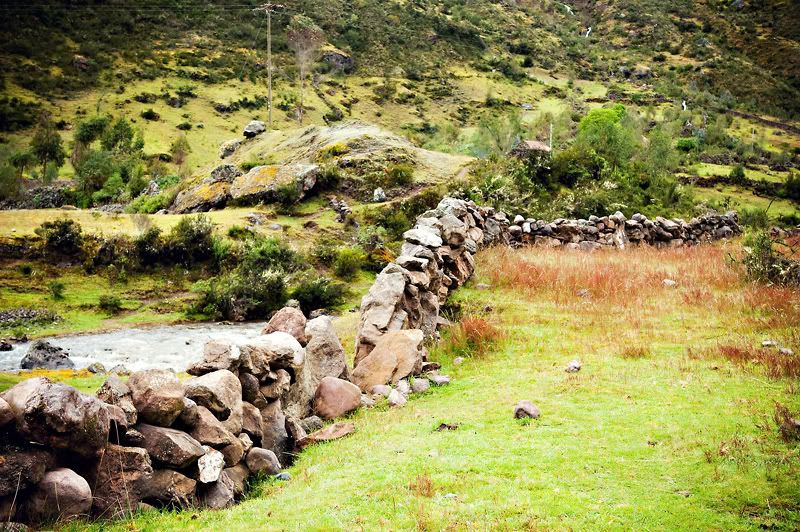 LLamas and alpacas were out and about in the mountains. Their look gives me the giggles sometimes.
A few skulls and bones laying around.
Homes that remind us of The Lord of the Rings.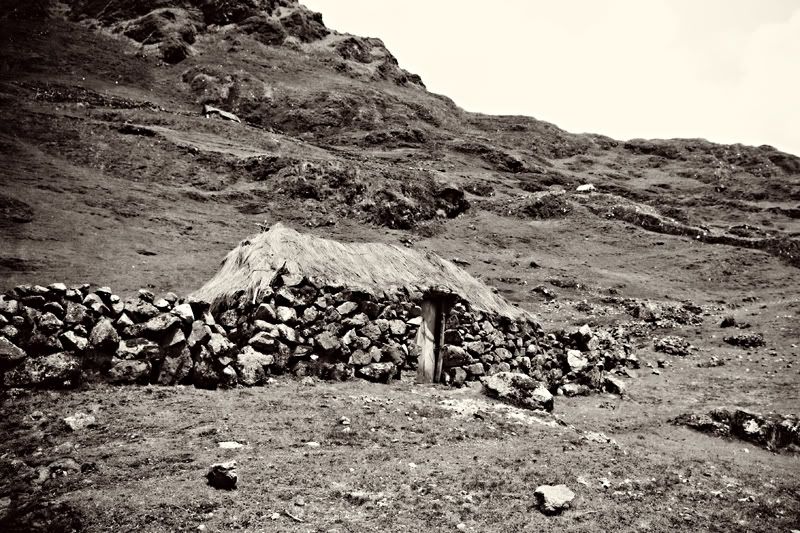 Being there in April, we got to experience greenery!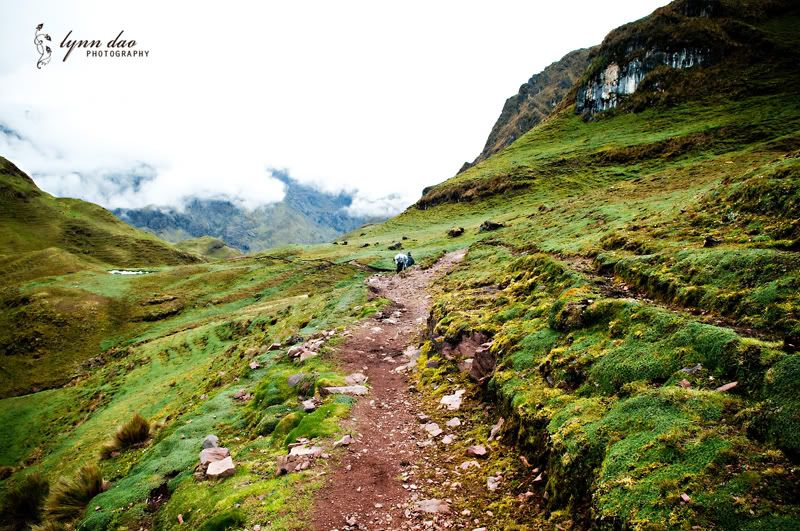 Arturo was an excellent guide giving us all sorts of information on local plants, animals, culture, and politics of Peru.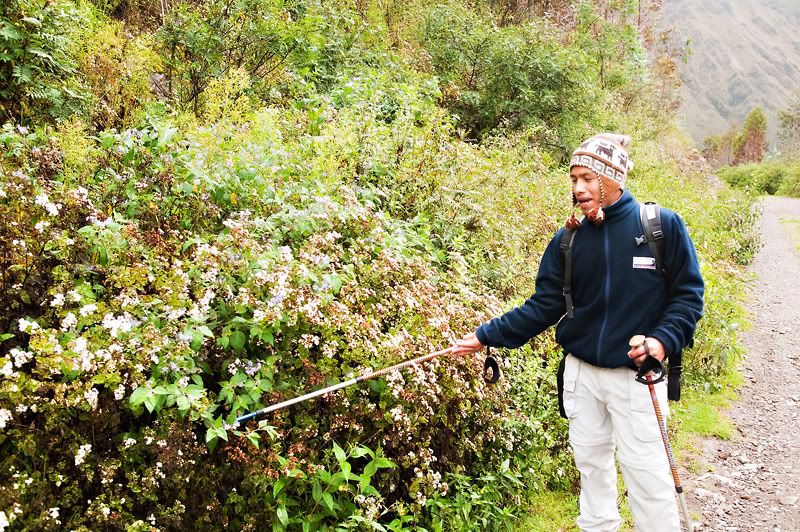 We experienced all sorts of weather on our trek from fog, to sun, to rain.
While trekking, our cook and porters were always ahead of us. One, because they sometimes took a short cut, and two, because they're used to the altitude and went at a much faster pace than Drew and I could. Hiking at 14,000ft was definitely not an easy task. There were times when I would literally walk five steps, stop to catch my breath, just to walk another fives steps and do the same thing all over again.
I was so happy when we came upon the site of our lunch camp!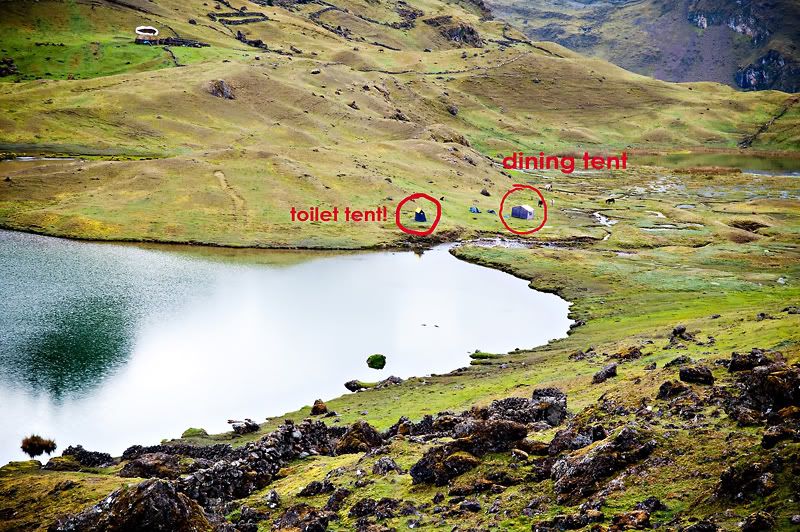 Yes, there was a toilet tent. They dug up a nice little hole in the ground where you can do your business and put a little zip up tent around it. Genius!
Our horses and mules hanging around at lunchtime.
After our cook threw some salt on the ground, one guy got really huffy when the others wanted some of the salt.
While the crew was cleaning up, poor Drew suffered another bout of vomiting. He was so sick and the altitude was not helping. :(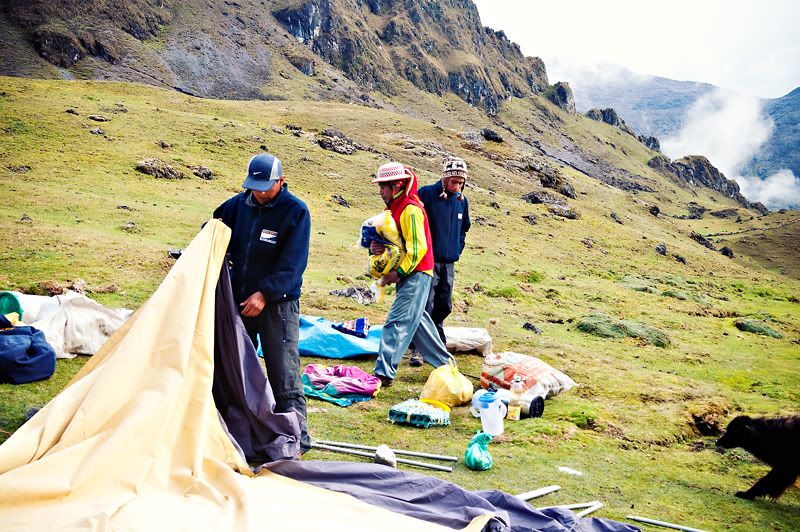 Thank goodness for the emergency horse, which he rode the rest of the trek that day to our campsite.
On parts like this (waterfall crossing!), Herbert had to guide the horse across.
As we got close to the village where we would camp for our first night, some of the local children came running toward us hoping for candy.
They still wear their traditional outfits.
Sometimes mixed with western clothes. These two cuties were so fascinated when I showed them pictures of themselves on the LCD of my camera. We then went through all the pictures I had taken on our trek. They loved it!
We camped in the schoolyard of this particular village.
Their bridge is awesome.
Before we had even descended upon the village, Drew and I both had the most massive headaches of our lives due to the altitude. He was sick as a dog and couldn't even eat dinner. So we had a discussion with Arturo and decided that we should cut the trek short and go home tomorrow so that Drew could get some much needed rest and recover. That evening, we both headed to bed early and the crew got to "eat like kings!" -as Arturo told us the next day.
After breakfast the next morning, there was a surprising bout of hail falling while we were in the dining tent. We waited it out, and then started our hike to the Lares hot springs where we would be picked up by a driver. Half an hour later, it was sunny and beautiful!
Incan terraces that make marvelous agricultural and irrigation systems still stand and work today as they did centuries ago.
Some of the plants and farm animals we saw along the way.
Drew and our guide Arturo, who was really like the Encyclopedia Britannica with all the wealth of information he's got stored in his head.
Although our four day trek had to be cut down to two days, we still felt like we learned, saw, and experienced much of what life is like for Quetchuans, the indigenous people of the Peruvian Andes. I am so glad we got to experience this instead of the Inca Trail actually. We got the whole package it seemed like, with gorgeous scenery and culture combined.
If you're considering doing a trek in Peru, I highly recommend Apus Peru, and getting Arturo as your guide!!!
Labels:
Travel
Blog Archive

Contributors