Wednesday, November 2, 2011
4:14 PM |
Posted by Lynn Dao Photography
Wow, I've finally joined the ranks of every crazy one of you out there who has ever taken the plunge and jumped out of a plane 14,000ft in the air!
I was SO incredibly nervous before the jump and was even wondering from the start of the day when I was going to back out of this thing. Once we got to
Skydive Hawaii
I don't think I had a chance to even sit for long to think about it. We watched a quick video, signed our lives away, and then it was off to get strapped in. Met my dive instructor, Lyle, who was really the best instructor any nervous girl could ask for. He cracked a ton of jokes to ease my nerves and while we were up on the plane ride (how did I even get on that plane?) he pointed out all these sights like Diamond Head Crater and Pearl Harbor just to distract me.
Next thing I knew, the plane door rolled open, and we were standing on the edge. One quick smile at the camera guy and we were in the air. I didn't even have time to think about anything, which was a good thing!
The first couple of seconds, my legs were flailing like crazy because 1) I totally forgot Lyle's instructions to hook them to his and 2) I was cursing everyone who told me that I wouldn't feel that rollercoaster drop feeling -which I did. But it only lasted two seconds and then all of a sudden I was flying/floating and having the time of my life!!! At the end of the dive, I was ready to do it all over again!
Thanks Lyle and
Skydive Hawaii
for an unforgettable first dive!!!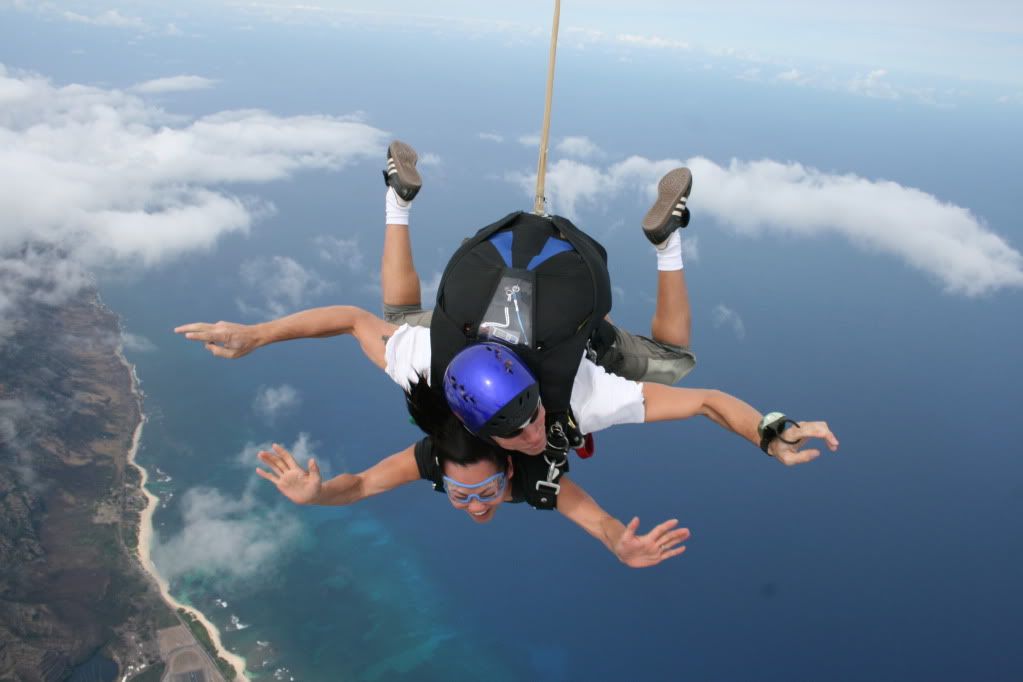 Labels:
Travel
Blog Archive

Contributors